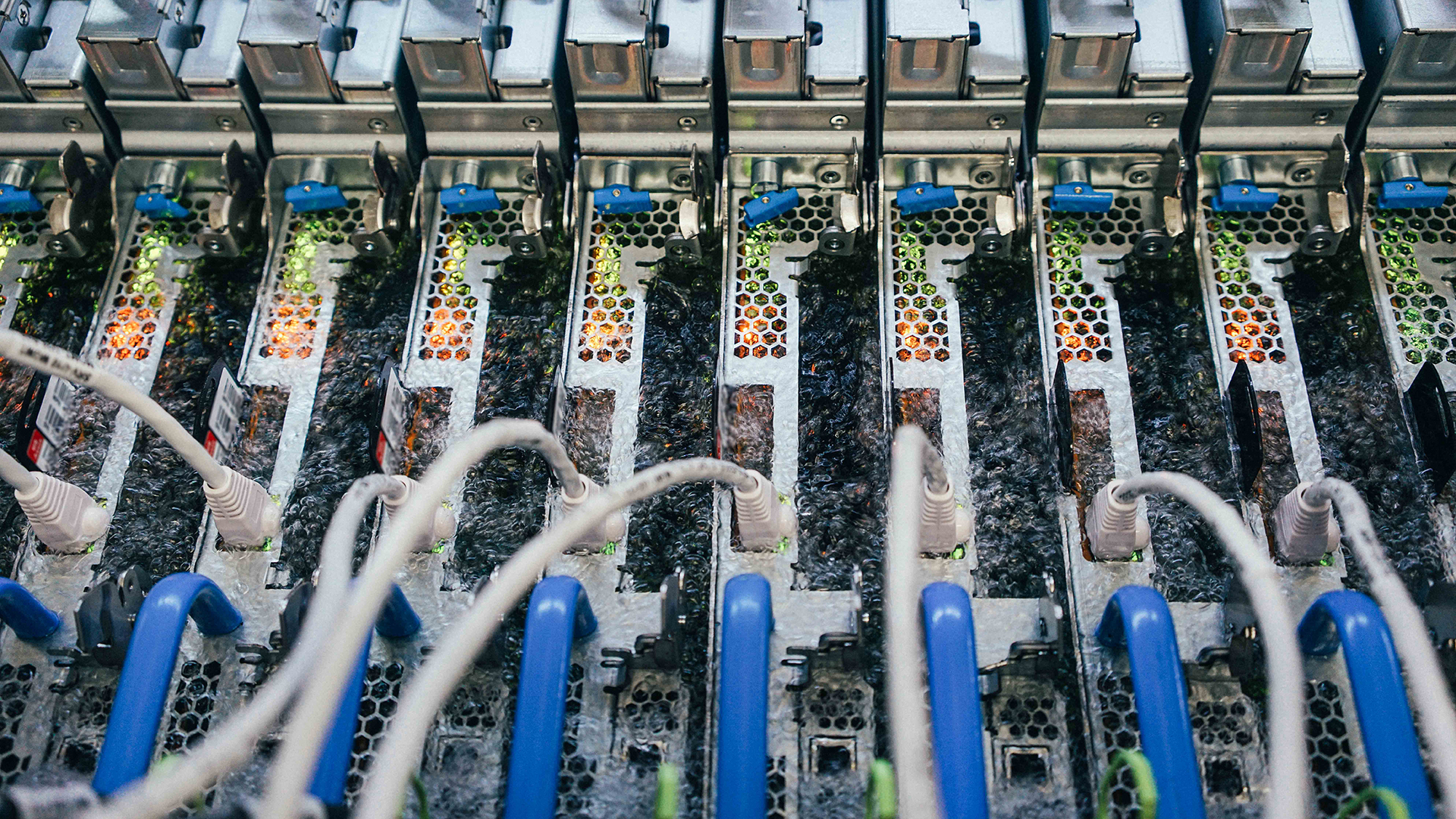 Microsoft Corp. revealed today that it is experimenting with so – called "two – phase immersion cooling technology", which uses a liquid that boils at extremely low temperatures to keep its data centers cool.
In a post on its innovation blog, the company explained that it has already put the technology into production at its Washington-based Azure data center.
Today, Microsoft relies primarily on air-cooled systems to keep the temperature of processors running in its data centers to a manageable level. However, he said liquid cooling systems have much greater potential as they consume less energy. Heat transfer in liquids is "much more efficient than air," the company said, meaning liquid cooling systems are much more environmentally friendly.
Microsoft said its two-phase immersion refrigeration technique is even more efficient than the single-phase refrigeration technology used by Google LLC in some of its data centers. With single-phase cooling, the liquid is kept in a liquid state, and heat is dissipated either by natural or forced convection, Microsoft said. As such, single-phase immersion cooling works similarly to air cooling, with the hot liquid transferring heat through the heat exchanger before returning it back to the system.
Microsoft said two-phase immersion cooling is more passive. When the fluid used in its system comes into contact with the heat-generating components in its data centers, it changes from the liquid to steam, which rises naturally and dissipates the heat as latent energy. The steam is reflected through the condenser and then converted back to a liquid form that can be recycled back into the system.
To do this, Microsoft has created a designed solution that will not damage server systems when they are immersed in them. The liquid sitting in the steel cooling tank has a boiling point of only 122 degrees F, which is about 90 degrees colder than the boiling point of water. Meanwhile, coils flowing through the tank and allowing vapor condensation are connected to a separate closed-loop system that uses heat transfer fluid from the tank to a dry refrigerator standing outside.
Currently, Microsoft has conducted only one tank and is planning a series of tests to determine how useful the new cooling system will be.
Microsoft said tests to date show that two-phase liquid immersion cooling can reduce the power consumption of any server by between 5% and 15%. You can even lock or run servers with more power without the risk of overheating.
"Supercomputing has been using this type of technology for decades, so the risk isn't really that great," said Microsoft-renowned engineer Christian Belady, who is also vice president of Datacenter Advanced Development. "The goal is to use this in all regions of our data centers, but there are a few more steps before we get there."
In addition to more efficient heat transfer, there are other benefits, Beladay pointed out. As the system removes moisture and oxygen from the environment, corrosion is significantly reduced, causing fewer mechanical failures in the system. Microsoft first discovered this with the Natick project, which was an experimental submarine data center.
"You have something similar when diving. You're basically displacing oxygen and moisture, "Belady said.
The company continues to experiment with other liquid-based refrigeration technologies. They include something called "cold plates" that use tubes filled with liquid refrigerant. Belady said that although both technologies have potential, he is most excited about two-phase immersion because it is only a "one-time cost" that only needs to be done once, with generations of servers not requiring engineering.
"If done correctly, two-phase immersion cooling will meet all of our requirements in terms of cost, reliability and performance at the same time, essentially being part of the energy consumption compared to air cooling," said Ioannis Manousakis, Chief Software Engineer at Azure.
Photo: Microsoft
---
Because you are here …
Show your support for our mission with our one-click subscription to our YouTube channel (below). The more subscribers we have, the more YouTube will suggest relevant business and new technology content. Thanks!
Support our mission: >>>>>> SIGN UP NOW >>>>>> to our YouTube channel.
… We would also like to tell you about our mission and how you can help us fulfill it. SiliconANGLE Media Inc. business model is based on the intrinsic value of the content and not on advertising. Unlike many online publications, we don't have a pay wall or advertise with banners because we want our journalism to stay open, free of influence and the need to catch traffic.Press, reporting and commentary on SiliconANGLE – along with live videos from our Silicon Valley studio and video teams touring the world Cube – Take a lot of hard work, time and money. Maintaining high quality requires the support of sponsors who are in line with our vision of ad-free journalistic content.
If you like reporting, video interviews, and other ad-free content here, take a moment to see a sample of video content supported by our sponsors. tweet your supportand keep coming back to SiliconANGLE.