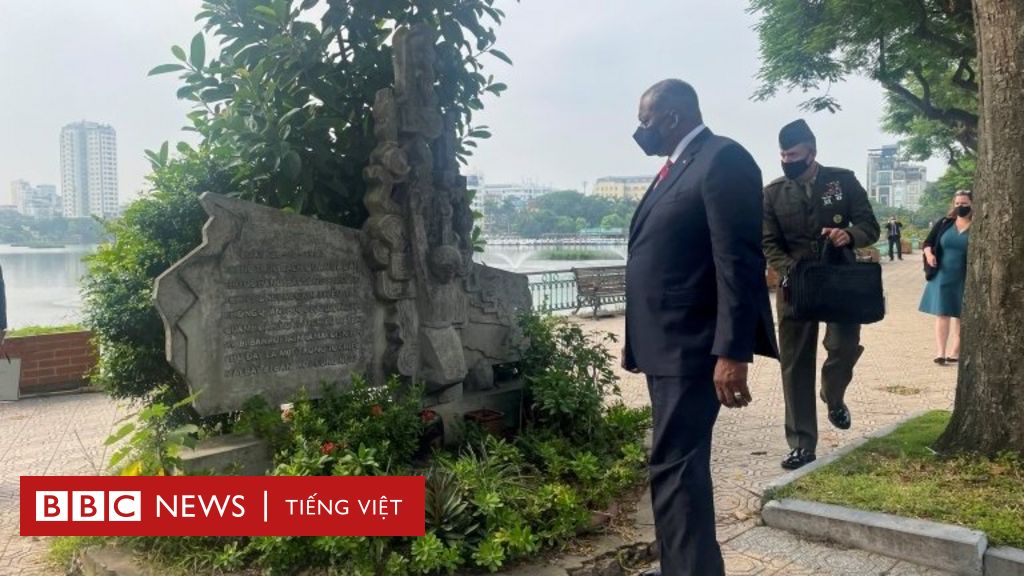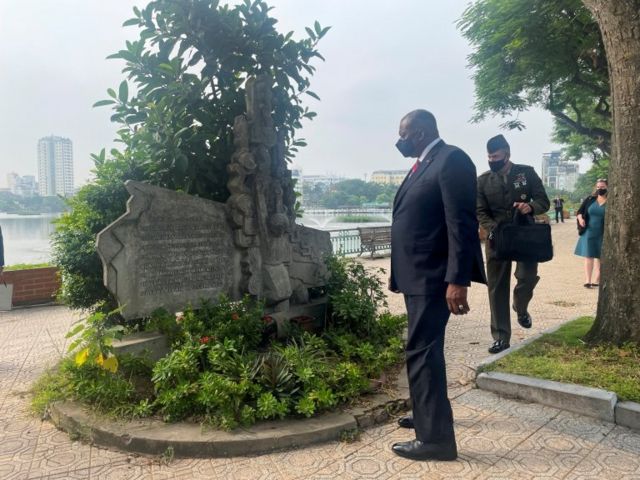 U.S. Defense Secretary Lloyd Austin wrapped up a visit to Vietnam on July 29, saying the U.S. "supports a strong, prosperous and independent Vietnam."
Mr. Austin posted many photos and notes about his trip to Hanoi on his Twitter page.
"I had a very solemn meeting with Prime Minister Pham Minh Chinh this morning. We discussed a range of issues, including the US commitment to Vietnam in the fight against the Covid-19 epidemic."
"We provide 5 million doses of Moderna vaccine, along with $ 20 million in support against Covid-19."
"I am honored to meet President Nguyen Xuan Phuc today. We discussed a strong bilateral partnership and I emphasized that the United States supports a strong, prosperous and independent Vietnam."
Also on Twitter, the U.S. Secretary of Defense said:
"Thank you to General Phan Van Giang, Minister of National Defense, for the warm welcome and fruitful meeting. The partnership is based on a strong mutual exchange and our continued commitment. Responding responsibly to the legacy of war."
An indispensable goal of the American general is to visit Hoa Lo Prison.
"One of my first stops in Vietnam was the Hoa Lo prison in Hanoi. It was a reminder of the costs of the war and why the bilateral partnership is so lasting. Today's ties with Vietnam are based on our common sacrifice."
The U.S. secretary also visited a stele by Lake Truc Bach, where pilot John McCain, later a senator, was shot down during the 1967 war.
"It has been almost 55 years since Senator McCain fell into Lake Truc Bach before serving five and a half years in prison as a Hoa Lo prisoner. Visiting this place this morning was certainly an experience that made me sober and humbled.
What is Mr. Austin's plan for Southeast Asia?
On July 21, at the Pentagon, Mr. Austin explained his intention to visit three Southeast Asian countries.
"I am particularly looking forward to having a keynote speech in Singapore on how we are strengthening one of our strategic strengths in the region, which is our strong network of allies and partners," he said.
"I'm going to convey some important messages. The first is simply for the U.S. to remain a reliable partner: a friend who shows up when it's needed."
He will emphasize "a fairer, more open and inclusive regional order".
"We don't believe any country can dictate rules or, worse, reject rules."
Mr Austin "will also clarify our position on some of China's useless and unsubstantiated claims in the South China Sea".
On 27 July, during an official visit to Singapore, he said:
"Beijing 's demand for much of the South China Sea has no basis in international law.
"China 's claim affects the sovereignty of countries in the region.
"We continue to assist coastal states in the region in respecting their rights under international law."
"I am here to represent the new U.S. administration, as well as to reaffirm America's enduring commitments.
"Above all, I want to talk about the strategic urgency of partnership. For more than four decades, I have learned a central lesson as a soldier, in peace and in war: No one can go alone."
Biography of Mr. Lloyd Austin
Place of birth: Mobile, Alabama
Birth name: Lloyd James Austin III
Father: Lloyd James Austin Jr., postal worker
Mother: Aletia Taylor Austin, housewife
United States Army, 1975-2016, four-star general
He achieved many first achievements:
First African American Secretary of Defense.
The first African-American to take the post of deputy chief of staff.
The first African-American to lead the American Central Command.
The first African-American to lead a legion in combat.
The first African-American commander of the American Division.
Source link