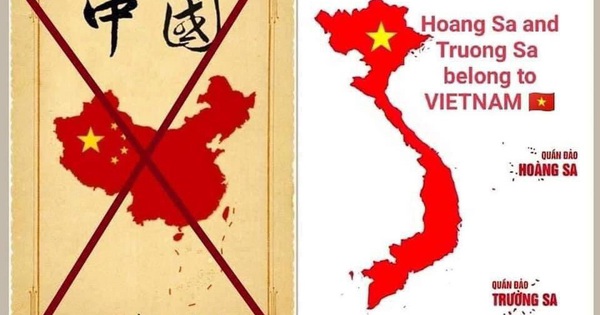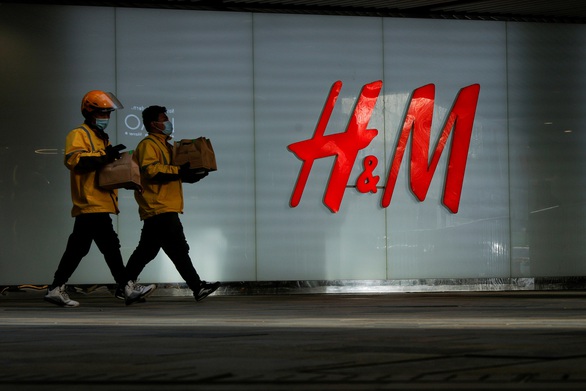 Shop H & amp; M at a shopping mall in Beijing, China on March 28 – Photo: REUTERS
On April 2, Chinese media and numerous social media accounts simultaneously disseminated information: a "release map" appeared on the H&M website (Swedish fashion and accessories retailer) and China asked for a correction. In Vietnam, too, H&M information, "posting maps with illegal cow tongue lines in China," appeared on social media.
So what's the story? Where is the "problem map"? And has H&M published an illegal Chinese U-line map?
The data published by China Central Television (CCTV) on its website and social media account Weibo was as follows:
"Recently, users of the network told the regulator that a 'problematic map of China' had appeared on the H&M website (hm.com). The Shanghai Urban Planning and Natural Resources Department immediately appeared." He immediately informs them to correct it immediately.
Upon receipt of the notice, Haines Morris (Shanghai) Trading Co., Ltd. – the company that manages the official H&M website – repair the error immediately. The City Ministry of Planning and Natural Resources and the Shanghai City Information Office had a joint conversation with them.

During the exchange, the agencies seriously warned of violations of health and health laws and regulations, instructed them to set up a network in accordance with the law, seriously studied the "Chinese Cyber ​​Security Act", "China Mapping Act", "Map Management Regulations" … along with other laws and regulations that create a solid sense of state maps, the correct implementation of the 'rules of use' The map also cannot be wrong '.
The agencies require and clearly state that the main person responsible for operations must be at the forefront of editing, primarily responsible for managing the content of the website. From now on, the regulator will supervise the director. The company (H&M) said it has accepted the regulators 'call and will make practical corrections. "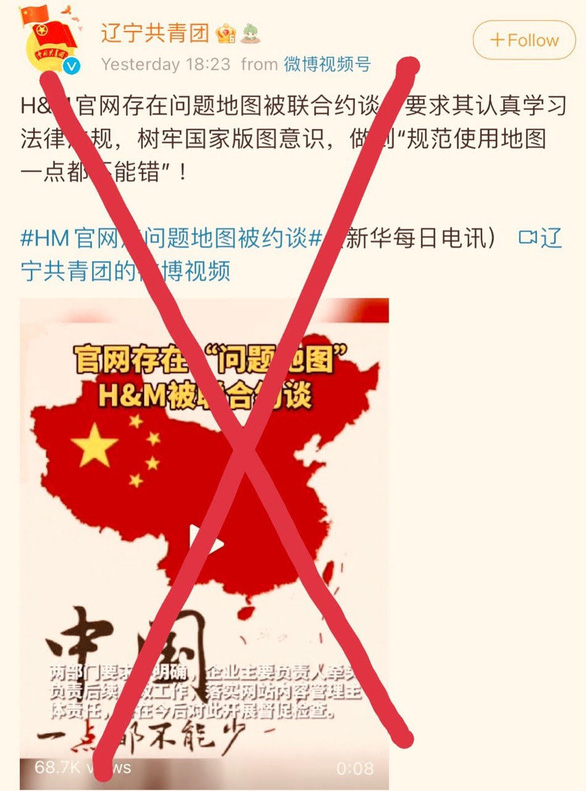 China's Weibo account posted news on the H&M website of an incident with a "problematic map", attached to a short clip showing a Chinese map with an illegal cow line inserted – Screenshot
The Shanghai Ministry of Natural Resources and Planning and the Shanghai City Information Office warn website operators, research platforms and "use maps that accurately represent the country's territory" of China.
Many other Chinese newspapers published the same information without explaining what the "problematic Chinese map" is on the H&M website, where the problem is that China asks. H&M edits.
Thus, it is clear that only China provided information on the request to edit the maps. According to Reuters and the newspaper Wall Street Journal, H&M has not yet commented.
It is still unclear what China has asked H&M to add, whether to add an illegal "cow tongue line" (a nine-line line) or colored Taiwanese islands, or to add disputed areas such as the border with India. / Diaoyu Islands? There is currently no data on this.
And has H&M published an illegal Chinese U-line map? From 11.30 to 3-4.2021, there is no edited map on the H&M website showing an illegal line of Chinese cows, as internet users say. Many of the images posted by internet users are just old photos showing an illegal cow line spread by China.
Similarly, on the Chinese social network Weibo, a number of social media accounts (including a green tick) on the website also spread information about the "problem map" case. H&M, along with a map showing the illegal insertion of a cow line.
So we can determine the information now: China said H&M changed the "problem map" to fit the map from their country's point of view – which inserted an illegal cow tongue line. It's not clear yet H&M has officially repaired it or not.
Foreign companies often have problems with China over political issues, Bloomberg reported. Last week, Chinese network users called for a boycott of H&M over an unknown announcement on the company's website that they would not use Xinjiang cotton.

What is a "problem map"?
The so-called "problematic maps" of Chinese territory made by Beijing itself are maps: Lack of Diaoyu / Senkaku Islands (disputed with Japan), some other colored Taiwanese islands, loss of cow tongue line (illegal) in southern China Sea and lack of disputed territories with India.
Beijing is still enforcing the 9-line demand (cow tongue line), which it has drawn itself and has tried to expand in many forms in the past, despite the International Court of Arbitration's ruling on the South China Sea in 2016.
Many countries have rejected this claim because there is no legal basis and it is unreasonable it occupies more than 80% of the South China Sea and covers the exclusive economic zone (EEC) of other countries.
Source link