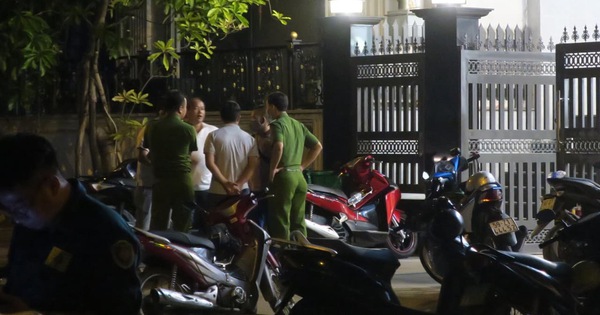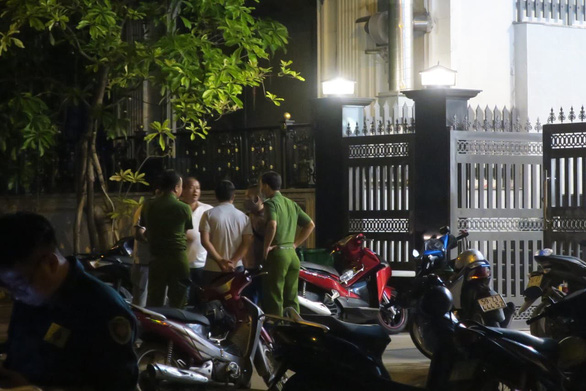 Authorities investigating the crime scene on November 28 – Photo: TTD
The afternoon of November 28 is the source Youth online confirmed that Jeong In Cheol (35 years old, Korean citizenship) had been arrested by the Criminal Police (PC02) in Ho Chi Minh City in cooperation with the relevant authorities – the suspect left the body in a suitcase in a house in the Him Lam residential area Tan Hung Division, District 7, HCMC.
Accordingly, PC02 forces, coordinated with the relevant authorities, arrested Jeong In Cheol while the suspect was hiding in District 2 at noon on 28 November.
Earlier, the District 7 Police Investigation Department in Ho Chi Minh City issued a notice that Jeong In Cheol. District 7 police are reportedly accepting an investigation into a "murder" case that occurred on Nov. 27 at a house in the Him Lam residential area, Tan Hung Department, District 7, Ho Chi Minh City.
Upon inspection, police found that a man named Jeong In Cheol (35 years old, Korean national, resident of District 7) is currently on the run. Jeong In Cheol is known to be the director of a company hired to work in the house where the crime took place in the Him Lam residential neighborhood.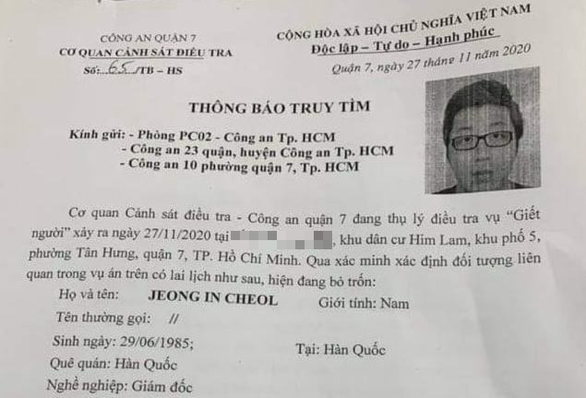 Authorities arrested Jeong In Cheol after the announcement of the investigation was published
Kot Youth online Earlier, on the evening of November 27, the owner of a house in the residential area of ​​Him Lam came to inspect the house (let some foreigners hire the company and return it), which discovered a suitcase stinks in the toilet and many suspicious signs should report to police.
Upon receiving the news, the District 7 police coordinated with the appropriate authorities to quickly inspect the scene, record testimonies, and clarify the case. Upon inspection of the suitcase, authorities discovered that the human body was not intact.
After the first examination at the scene, the victim's body was wrapped in a black plastic bag. This plastic bag is placed in a pink suitcase, around the area for sensing the suitcase, there are saws, pliers …
Initially, the authorities identified the body in the suitcase as male, Korean citizenship.
Currently, the case continues to be investigated and addressed.
Source link