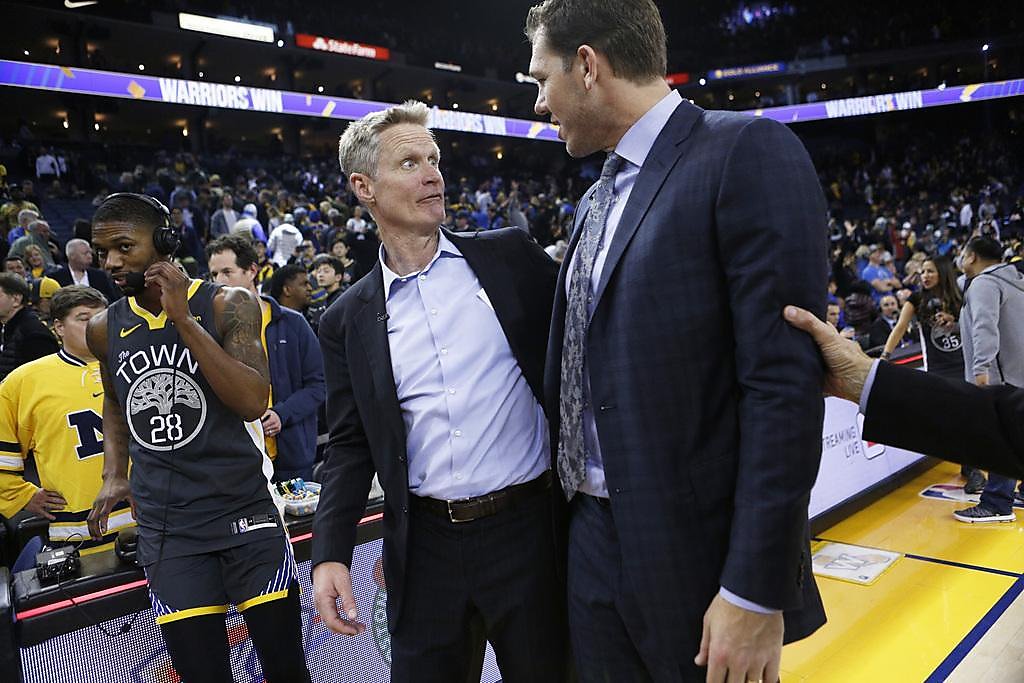 [ad_1]


Photo: Santiago Mejia / Chronicle

Steve Kerr, head coach of Golden State Warriors, spoke Friday of the dismissal of Los Angeles Lakers head coach Luke Walton, who says Lakers are "losing one of the best people in the NBA" at Walton.
Kerr was questioned about the dismissal of Walton, announced on Friday by General Manager of Lakers Rob Pelink after Warriors training in Oakland. Walton was fired when he trained the team for three defeating seasons.
"In the NBA you are 100% dependent on your circumstances, the strength of your organization, momentum, unity, everything must be in good shape," said Kerr. "If they do not, as we have been told by Lakers, they will be victims and usually the coach is the first."
"They lose one of the best people in the NBA. They lose a boy who knows the game as well as anyone I've ever met. They lose someone they believe in players, players want to play for."
Walton and Kerr have a lot in common. Both played their basketball at the University of Arizona. Both played the role of players at NBA franchise franchises – Kerr with Chicago Bulls and San Antonio Spurs and Walton with Los Angeles Lakers.
And then Walton's concert just before assuming the role of head coach of Lakers – assistant coach of the warriors under Kerry. Prior to the season, when Walton took over Lakers, he took over the assignment of warriors, while Kerr rehabilitated his back. During Walton's term as a temporary coach of Golden State, he led Dubs to the start of 24-0 and 39-4 before Kerr returned to the team.
Ker Ker, Walton and Warriors have a history, and Dubs did not resign from being hit by his former assistant coach and how Walton's failure was thanks to Walriors for his organization.
"I feel for Luka," said Kerr. "And I'm fortunate that I have certain circumstances here, where we have wonderful people every day stabilizing our organization. And I am happy that I am in this position and surrounded by these people, because the NBA does not happen often."
[ad_2]

Source link