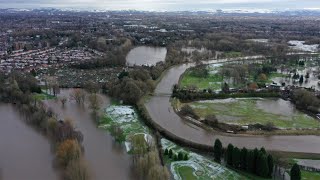 A the grandfather was taken to hospital after accidentally swallowing sewage when his house was flooded.
Chris Spencer and his 70-year-old wife Marlene were forced to leave their home in Chester with the help of their family on Wednesday night after bad water caused by Storm Christoph caused dirty water to leak.
Granddaughter Alex Roberts, who went to help her grandparents after the call, told the PA news agency: "When he tried to get out, he fell into the water and injured his back, then swallowed sewage.
"He also had a hypothermia because he was so cold, so he had to go to the hospital. While we were trying to take him out of the water, I also swallowed some sewage, so I also had to get out of the hospital for antibiotics."
Roberts, 20, said she and a family living nearby went for help after being called by her grandmother, who was "crying" for some time after 10 p.m. Mr. Spencer remained in Countess Chester's hospital overnight before being discharged