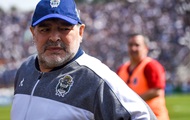 The cause of death of the legendary former footballer was acute mild edema.
The results of the autopsy of Diego Maradona, who died on Wednesday, November 25, were reported in Argentina.
As reported Clarin, the cause of death of the football legend was acute mild edema caused by chronic heart failure.
In addition, widespread cardiomyopathy, a pathology that causes enlargement of the heart chambers, was found in the heart of 60-year-old Maradona. It was observed that Maradona's heart was twice as large as usual.
According to the source, urine and blood were taken during the autopsy, which will be sent for toxicological analysis to the laboratory of the San Martin Scientific Police. The purpose of the tests is to check for traces of alcohol, drugs or other toxic substances.
Earlier, it was reported that Diego Maradona confided in embalming his body and giving him open access, but the footballer's family buried him in a private cemetery in Buenos Aires.
Source link