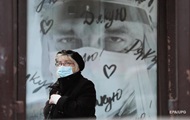 Weekend restrictions have somewhat prevented an unusual increase in the number of those infected, Stepanov says.
Weekend quarantine helped halt the rise in coronavirus cases. Such a preliminary assessment of the restrictions was given on Saturday, November 28, by the head of the Ministry of Health Maxim Stepanov.
"We see that the number of cases is growing every day. Today there are again more than 16 thousand cases of COVID-19. Today we have a weekend quarantine from 00.00. It is very important that we adhere to these anti-epidemic measures," the minister said.
The final assessment of the weekend quarantine will be given next week.
"We'll see if we've been able to bring down this hurricane's dynamic growth in the number of patients with COVID-19. . Stepanov.
Recall that Ukraine recorded a record increase in coronavirus for three consecutive days. Almost 16.3 thousand people fell ill in the past day.
Note that Stepanov himself only announced yesterday that he had contracted COVID-19. He fell ill on 14 November.
News from Dopisnik.net in the Telegram. Subscribe to our channel https://t.me/korrespondentnet
Source link