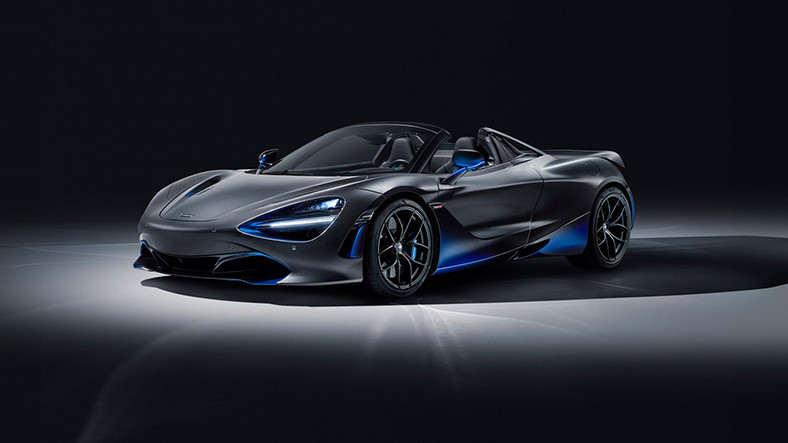 [ad_1]

McLaren 720S Spider is a very aesthetic car. This aesthetic appearance is a very difficult process.
Almost every car manufacturer of high-level color, personalizes and protects your new car in the way you want at the factory. They produce everything from attractive outer shades to a special indication of the mileage of leather, an additional power to the wheels, of course for a certain price.
This usually McLaren 720S Spider's unconventional color work is exclusively made by McLaren Special Operations (MSO), which was commissioned to make the dream come true for customers. The dark blue exterior of the car is a mixture of three colors: Cerulean Blue, Burton Blue and Abyss Blue. This new color is called Bu Coriolis Bu.
The Coriolis color on the car is strategically used over the Meteor Gray color. Meteor Gray is also another color created by MSO crew for special customers.
According to the MSO, it took 260 hours to apply this color. Professional painters used the paint carefully to show the car as if it were in a wind tunnel. The result can be exhibited in the Museum of Art.
$ (Function {) {
// facebook window.fbAsyncInit = function () fb.init ({ appId: "1037724072951294", xfbml: true, version: "v2.5" }); };
(function (d, s, id) { var js, fjs = d.getElementsByTagName (s)[0]; if (d.getElementById (id)) {return;} js = d.createElement (s); js.id = id; js.src = "http://connect.facebook.net/en_US/sdk.js"; fjs.parentNode.insertBefore (js, fjs); } (document, & # 39; script & # 39 ;, & # 39; facebook-jssdk & # 39;));
$ ("Organ"). Ten ({ click: function () { // facebook saves the ajax button If fb.xfbml.p (); } }, & # 39; .facebook-save & # 39;);
// Share scrolling if ($ (& lt; content-sticky & lt;) length> 0) { if ($ (window) .width ()> = 768) {{ $ (window) .on (& quot; scrolling & quot ;, function () { have scrollTop = $ (this) .scrollTop (); $ ("article"). each (function () { if (scrollTop> = ($ (this) .find (". content-body") offset (). top - 76)) { $ (To) .find ("Sticky Content.") AddClass ("Sticky"). (($ (this) .find (". content-body"). offset (). top + $ (this) .find & # 39;. Content-sticky & # 39;). Height () + 92))) { $ (To) .find ("Sticky Content.") RemoveClass ("Sticky"). $ (this) .find (& # 39;. content-sticky & # 39;). css ({& # 39; bottom & # 39 ;, & # 39; top & # 39 ;: & auto; # 39;}); } else { $ (To) .find ("Content sticky) .AddClass (sticky) .Css ({ "bottom": "initial", & # 39; top & # 39 ;: & # 39; 76px & # 39; }); } } else { $ (this) .find (& # 39; content-sticky & # 39;). removeClass (& lt; sticky & apos;). css (& quot; bottom & quot;: auto & # 39; top & # 39;: & gt; & lt; 39 & gt; } }); }); } }
// click share $ ("Organ"). Ten ({ click: function () { var $ this = $ (this), dataShareType = $ this.attr (& # 39; data-share type & # 39;), dataType = $ this.attr (& # 39; data type & # 39;), dataId = $ this.attr (& # 39; id-data & # 39;), dataPostUrl = $ this.attr ("data post-url"), dataTitle = $ this.attr (& # 39; data header & # 39;), dataSef = $ this.attr (& # 39; data-sef & # 39;);
switch (dataShareType) { example & # 39; facebook & # 39 ;: fb.u ({ method: "share", href: dataSef, }, function {answer} if (answer &&! response.error_message) { updatehit (); } });
break;
example "twitter": shareWindow (& # 39; https: //twitter.com/intent/tweet? via = webtekno & text = & # 39; + encodeURIComponent (dataTitle) + & # 39;% E2% 96% B6 & )); updatehit (); break;
example "gplus": shareWindow ("https://plus.google.com/share?url= & # 39; + encodeURIComponent (dataSef)); updatehit (); break;
example "mail": window.location.href = & # 39; mailto:? subject = & # 39; + encodeURIComponent (dataTitle) + & # 39; & body = & # 39; + encodeURIComponent (dataSef); // updatehit (); break;
case "whatsapp": window.location.href = & # 39; whatsapp: // send? text = & # 39; + encodeURIComponent (dataTitle) + & # 39;% E2% 96% B6 & # 39; + encodeURIComponent (dataSef); updatehit (); break; }
shareWindow (url) { window.open (url, "_blank", "toolbar = yes, scrollbars = yes, resizable = yes, top = 500, left = 500, width = 400, height = 400"); }
function updateHit () { $ .Ajax ({ enter: "POST", url: dataPostUrl, data: {contentId: dataId, contentType: dataType, shareType: dataShareType}, success: function (data) {
if ($ (& # 39; video-exhibition & # 39; length = 0) { var $ container = $ (& # 39; video-exhibition & # 39;); } else if ($ (& # 39; article[data-id="' + dataId + '"]& # 39;) .length> 0) { var $ container = $ (& # 39; article[data-id="' + dataId + '"]& # 39;); } else if ($ (& # 39;. wt-share-item[data-id="' + dataId + '"]& # 39;) .length> 0) { $ container = $ (& # 39;. wt-share-item[data-id="' + dataId + '"]& # 39;); } else { $ container = null; }
// var $ container = dataType == & # 39; video & # 39;? $ (& # 39; video-exhibition & # 39;): $ (& # 39; article[data-id="' + dataId + '"]& # 39;);
if ($ container! = null && $ container.length> 0) { var $ badged = $ container.find (". wt-share-badge-" + dataShareType);
look at $ headerCount = $ (& # 39;. content-header & # 39;). find (& lt; wt-share-count & # 39;), $ containerCount = $ container.find (& # 39;. wt-share-count & # 39;), value = parseInt ($ containerCount.html ()) + 1;
$ container.data (& # 39; share & # 39; value); //$containercount.html(valu A);
if ($ headerCount.length> 0) //$headercount.html(valu A); }
if ($ badged.length> 0 && (dataShareType == & # 39; facebook & # 39; || dataShareType == & # 39; twitter & # 39;)) { if ($ badged.hasClass ("visible")) {{ //$badged.html(dat A); } else { //$badged.addclass('is-visible').html(dat A); } } }
} }); } } }, & # 39; .wt-share-button & # 39;) });
[ad_2]

Source link