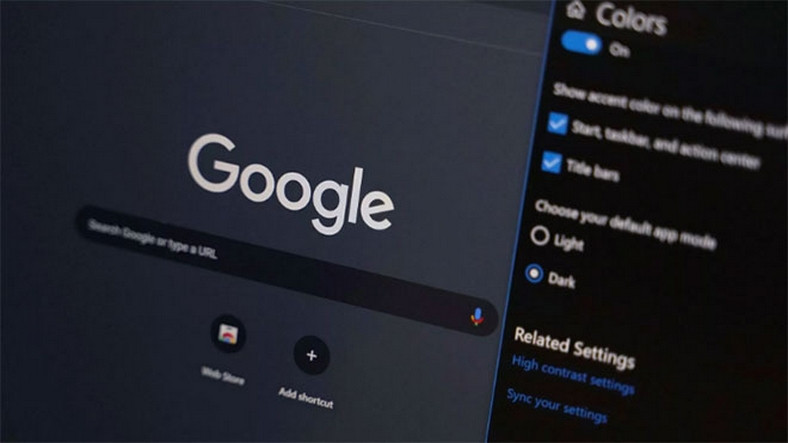 [ad_1]

Designed to be focused on developers, Chrome 74 was released on all platforms with the first beta version. In addition to all the features, the dark mode for Windows is included in the beta.
Google Chrome 74 beta has been released for some time now. Chrome 74, released for Windows, Mac, and Linux, gives you more control over your sites.
In addition, the dark mode for Windows was introduced to developers with the first Chrome 74 script. The published dark mode consists of completely dark tones, including the Chrome logo. However, a beta version that has two options, "Remove Animations" and "Reduce Motion" on all the platforms on which it's published, helps you keep all the controls in your browser.
Speaking of this function from Chromium 74, Thomas Steiner said: "Sometimes it can affect decorated effects, scattered ads, animations and videos with automatic playback. Together with Motion Reduction and Animation, developers can create less-moving pages to satisfy users. This includes removing auto-video playback and re-pageing specific for specific users."
$ (Function {) {
// facebook window.fbAsyncInit = function () fb.init ({ appId: "1037724072951294", xfbml: true, version: "v2.5" }); };
(function (d, s, id) { var js, fjs = d.getElementsByTagName (s)[0]; if (d.getElementById (id)) {return;} js = d.createElement (s); js.id = id; js.src = "http://connect.facebook.net/en_US/sdk.js"; fjs.parentNode.insertBefore (js, fjs); } (document, & # 39; script & # 39 ;, & # 39; facebook-jssdk & # 39;));
$ ("Organ"). Ten ({ click: function () { // facebook saves the ajax button If fb.xfbml.p (); } }, & # 39; .facebook-save & # 39;);
// Share scrolling if ($ (& lt; content-sticky & lt;) length> 0) { if ($ (window) .width ()> = 768) {{ $ (window) .on (& quot; scrolling & quot ;, function () { have scrollTop = $ (this) .scrollTop (); $ ("article"). each (function () { if (scrollTop> = ($ (this) .find (". content-body") offset (). top - 76)) { $ (To) .find ("Sticky Content.") AddClass ("Sticky"). (($ (this) .find (". content-body"). offset (). top + $ (this) .find & # 39;. Content-sticky & # 39;). Height () + 92))) { $ (To) .find ("Sticky Content.") RemoveClass ("Sticky"). $ (this) .find (& # 39;. content-sticky & # 39;). css (& # 39; bottom & # 39; 0px & # 39; & # 39; top & # 39; auto & # 39;}); } else { $ (To) .find ("Content sticky) .AddClass (sticky) .Css ({ "bottom": "initial", & # 39; top & # 39 ;: & # 39; 76px & # 39; }); } } else { $ (this) .find (& # 39; content-sticky & # 39;). removeClass (& lt; sticky & apos;). css (& quot; bottom & quot;: auto & # 39; top & # 39;: & gt; & lt; 39 & gt; } }); }); } }
// Share a click $ ("Organ"). Ten ({ click: function () { var $ this = $ (this), dataShareType = $ this.attr (& # 39; data-share type & # 39;), dataType = $ this.attr (& # 39; data type & # 39;), dataId = $ this.attr (& # 39; data-id & # 39;), dataPostUrl = $ this.attr ("data post-url"), dataTitle = $ this.attr (& # 39; data header & # 39;), dataSef = $ this.attr (& # 39; data-sef & # 39;);
switch (dataShareType) { example & # 39; facebook & # 39 ;: fb.u ({ method: "share", href: dataSef, }, function {answer} if (answer &&! answer.error_message) { updatehit (); } });
break;
example "twitter": shareWindow (& # 39; https: //twitter.com/intent/tweet? via = webtekno & text = & # 39; + encodeURIComponent (dataTitle) + & # 39;% E2% 96% B6 & )); updatehit (); break;
example "gplus": shareWindow ("https://plus.google.com/share?url= & # 39; + encodeURIComponent (dataSef)); updatehit (); break;
example "mail": window.location.href = & # 39; mailto:? subject = & # 39; + encodeURIComponent (dataTitle) + & # 39; & body = & # 39; + encodeURIComponent (dataSef); // updatehit (); break;
case "whatsapp": window.location.href = & # 39; whatsapp: // send? text = & # 39; + encodeURIComponent (dataTitle) + & # 39;% E2% 96% B6 & # 39; + encodeURIComponent (dataSef); updatehit (); break; }
shareWindow (url) { window.open (url, "_blank", "toolbar = yes, scrollbars = yes, resizable = yes, top = 500, left = 500, width = 400, height = 400"); }
function updateHit () { $ .Ajax ({ enter: "POST", url: dataPostUrl, data: {contentId: dataId, contentType: dataType, shareType: dataShareType}, success: function (data) {
if ($ (& # 39; video-exhibition & # 39; length = 0) { var $ container = $ ("video-show"); } else if ($ (& # 39; article[data-id="' + dataId + '"]& # 39;) .length> 0) { var $ container = $ (& # 39; article[data-id="' + dataId + '"]& # 39;); } else if ($ (& # 39;. wt-share-item[data-id="' + dataId + '"]& # 39;) .length> 0) { var $ container = $ (& # 39;. wt-share-item[data-id="' + dataId + '"]& # 39;); } else { $ container = null; }
// var $ container = dataType == & # 39; video & # 39;? $ (& # 39; video-exhibition & # 39;): $ (& # 39; articles[data-id="' + dataId + '"]& # 39;);
if ($ container! = null && $ container.length> 0) { var $ badged = $ container.find (". wt-share-badge-" + dataShareType);
look at $ headerCount = $ (& # 39;. content-header & # 39;). find (& lt; wt-share-count & # 39;), $ containerCount = $ container.find (& # 39;. wt-share-count & # 39;), value = parseInt ($ containerCount.html ()) + 1;
$ container.data (& # 39; share & # 39; value); //$containercount.html(valu A);
if ($ headerCount.length> 0) //$headercount.html(valu A); }
if ($ badged.length> 0 & & (dataShareType == & # 39; facebook & # 39; || dataShareType == & # 39; twitter & # 39;)) { if ($ badged.hasClass ("visible")) {{ //$badged.html(dat A); } else { //$badged.addclass('is-visible').html(dat A); } } }
} }); } } }, & # 39; .wt-share-button & # 39;) });
[ad_2]

Source link