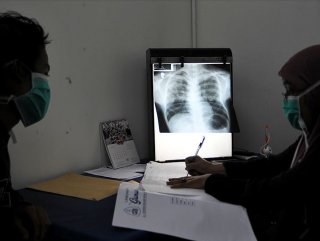 [ad_1]

Despite global measures, tuberculosis (tuberculosis) remains one of the main problems affecting public health. Due to tuberculosis, about 4000 people die every day in the world.
According to the World Health Organization (WHO), 10 million tuberculosis patients died in 2017 and 1.6 million people died from this disease.
Tuberculosis, the 10 most common causes of death, is causing many people's treatment, including children, and raising the awareness of many institutions, in particular the WHO. Due to tuberculosis, about 4000 people die every day in the world.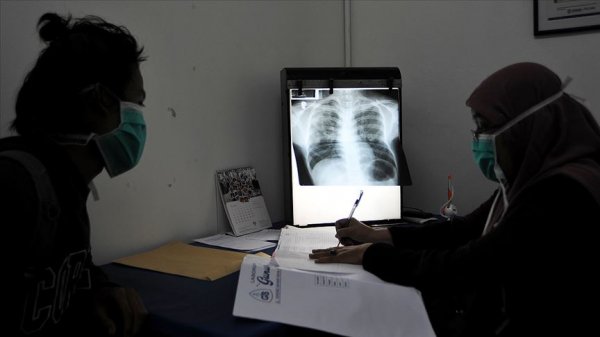 1 million people killed
According to the WHO, about 1 million children in 2017 were transmitted by tuberculosis microbes, while 230,000 children died from this disease.
On the other hand, thanks to effective treatment, people can get rid of tuberculosis, which stressed that in 2000 and 2017, 54 million TB patients had been saved.
Although the number of cases of tuberculosis decreased by 2% each year, the World Health Organization emphasizes that this should increase to 4 to 5% in order to achieve the goals of the strategy.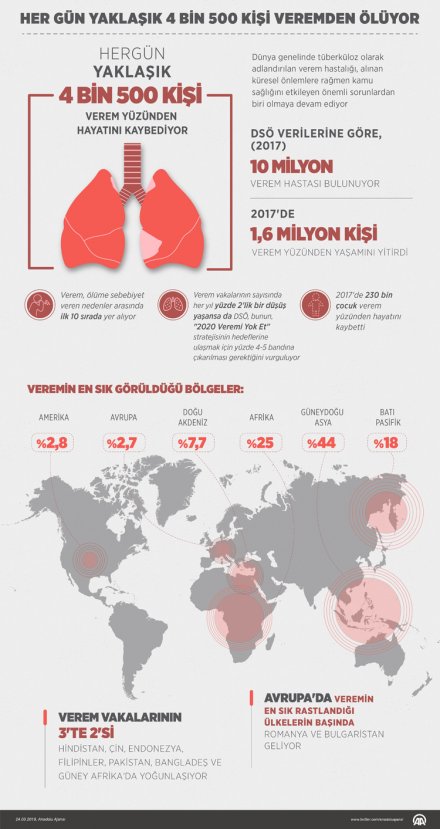 THE MOST IMPORTANT EFFECT IS IN SOUTHEAST ASIA
South-East Asia stands out as the region with the highest prevalence of tuberculosis with approximately 44%. It follows the African continent with 25 percent and the West Pacific region with 18 percent.
7.7 per cent of people with tuberculosis in the world are people living in the Eastern Mediterranean, 2.8 per cent in America and 2.7 per cent in Europe.
Two thirds of the world's cases of tuberculosis are concentrated in India, China, Indonesia, the Philippines, Pakistan, Bangladesh and South Africa.
In Europe, Romania and Bulgaria are among the most common countries in terms of tuberculosis.
24 MARCH WORLD DAY OF TUBERCULOSIS
On March 24, which was announced as a global day of tuberculosis, attention is dedicated to the feasibility of tuberculosis worldwide and is aimed at raising awareness of disease prevention.
On World Tuberculosis Day in 2019, the World Health Organization addresses the theme "Time is here", which highlights measures to be taken to reduce the incidence of tuberculosis.
[ad_2]

Source link