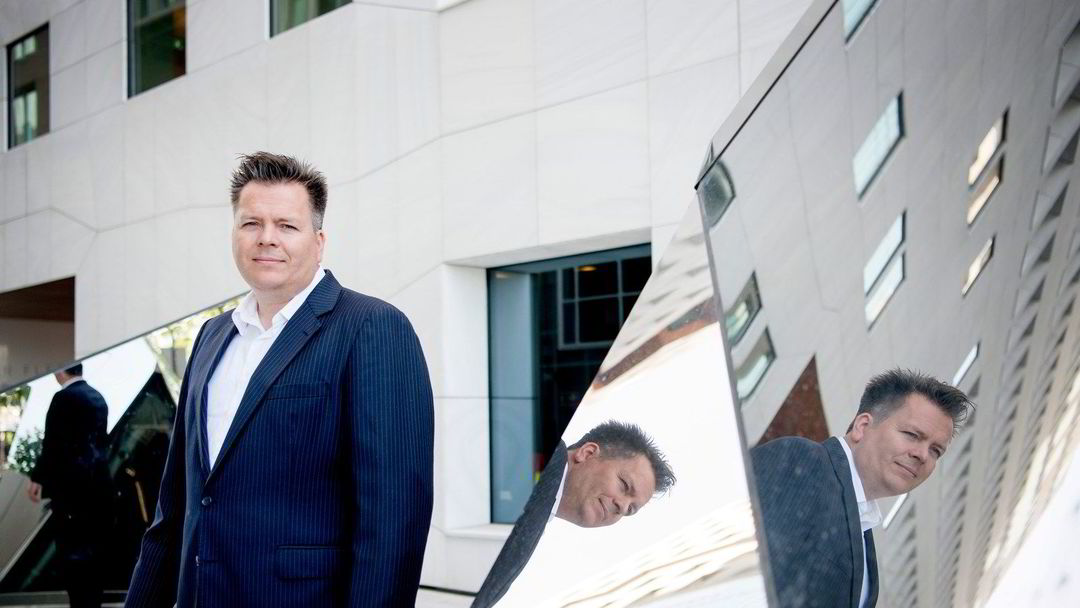 – Markets have been very fast this year. The appetite for risk is at a very high level, the multiples are high and the stock market needs to be fixed, says portfolio manager Torje Gundersen at DNB Asset Management.
– Slow vaccination may be a possible trigger. This means that we are currently portfolio-neutral equity securities, despite the positive macro and market scenario for 2021 as a whole.
Higher "multiples"
Stock market indices have risen, but so-called multiples have risen – that is, how expensive stocks are in terms of, among other things, book values ​​in companies (price / book) and analysts' estimates of future profits ("p / e").
Gundersen therefore believes that optimism can be diminished if vaccination disappoints and takes longer to overcome the corona crisis.
Then stock prices will fall again.
Once the pandemic gets under control over the summer, he believes growth will pick up sharply.
– This will be based on the tightening needs for consumption and investment in the private sector and the expansionary fiscal policy, where the majority of Democrats will be important. Central banks provide gas; Key interest rates will remain low, long-term interest rates will rise moderately, but will be controlled by purchases of central bank bonds in the market, he says.
Future US President Joe Biden has promised a $ 2 trillion support package due to the corona crisis. Biden's Democratic party colleagues have a majority in both congressional halls, increasing his chances of getting what he wants.
In addition, the US Federal Reserve and other central banks around the world are encouraging bonds to buy support to maintain their prices – which generally gives a good mood in the markets.
Believe in these sectors
The head of the DNB believes that the development of interest rates will be the most decisive in the future. Strong growth and market participants' belief that inflation – inflation – will rise will raise long-term interest rates, in part because lenders will want to offset higher inflation.
As a rule, higher interest rates will mean that the price of capital will be higher, which will reduce the supply of capital for the purchase of shares under the same conditions.
Higher interest rates also apply to equity investors, so that today the measured value that companies will earn in the future will be lower. This means that so-called growth companies – where prices are largely based on future earnings, such as the manufacturer of Tesla wheeled technology – will be less valuable today if interest rates rise.
This effect has less of an impact on the prices of safer and more boring stocks, which today have consistently high profits and are happy to pay some money in the form of dividends to owners every quarter or every year.
Gundersen of DNB expects higher interest rates and has prepared a winning list: industry, energy, raw materials, finance and cyclical consumption in global equity sectors.
At the same time, DNB is underweight, ie. It recommends reducing exposure to real estate shares, electricity supply, needs and health.
He believes much of the stock's potential is rated at.
– The market has risen sharply since the bottom of March last year and a lot of positive things have been included in the prices, he says, who therefore believes that strong profit growth in companies in the future will not be reflected in equally strong share price growth.
Gundersen and his management team dominate Norwegian stocks compared to global stocks in portfolios, as Norwegian stocks are valued cheaper than global stocks, which means, among other things, that the return that investors get from dividends is better.
– We believe that the growth of income on the Oslo Stock Exchange will be strong, he says.
His favorite class is now high-yield Nordic bonds, that is, loans to companies that do not have a so-called investment grade rating and are considered risky. He believes that returning here, if we adjust it to make it more risky, will be the biggest in the future.
Storebrand manager Hans Thrane Nielsen is also looking forward to vaccinations and lower infection rates.
– A lower infection is needed so that the world can reopen and businesses can operate normally. If vaccines work as desired, cutting costs in companies in 2020 should allow for slightly higher earnings expectations to be achieved this year, he says.
He also points out that with today's low interest rates, which provide low returns for fixed income and bond funds or bank deposits, equity funds are still preferred in the long run.
– Rising prices of metals, food and hydrocarbons will bring inflation and higher long-term interest rates in 2021, so we will see how the stock market handles this, he says.
Nordea strategists Erik Bruce and Joachim Bernhardsen stressed in their weekly report that they believe corporate profits will continue to surprise on the positive side.
– The strategic wind will hit the wind by 2021, the strategists wrote.(Conditions)Copyright Dagens Næringsliv AS and / or our suppliers. We would like you to share our examples with a link that leads directly to our site. Copying or other use of all or part of the content may be done only with written permission or in accordance with the law. See here for further terms.
Source link