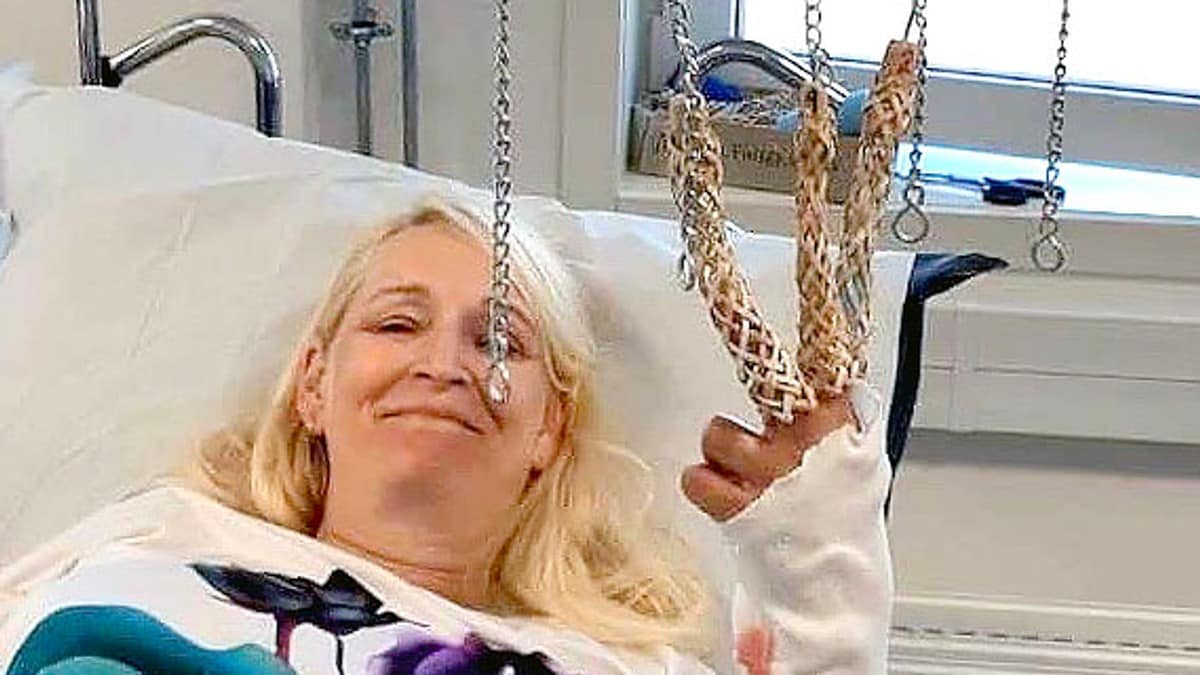 – I was just crying when I got the letter. I am completely empty, says Margret Annie Gudbergsdottir.
Her case is one of eight patient cases that form the basis of reports. Now she was told in black and white that it was a cure clear indefensible.
Gudbergsdottir became completely disabled after the doctor they talked about operated on her arm in Kristiansand. She was diagnosed with CRPS, a disease that leads to chronic nervous pain.
There is severe pain every day.
The Norwegian Medical Committee has been investigating Sørlandet Hospital and the doctor who operated on many patients for almost a year.
First in Flekkefjord. The administration then transferred him to Kristiansand.
Patients became disabled. Some died after being abused by a doctor.
After surgery, a total of 450 patients requested a new evaluation.

He violated the law on several counts
The Norwegian Medical Committee investigated how hospital management they were able to allow this to happen. He was allowed to continue operating on patients in Kristiansand.
The PRC saw the main conclusions. Reports will be prepared during the day.
Conclusions c individsaken against the doctor:
A doctor is not fit to practice the profession. He loses his license. He was behaving obviously unjustifiably.
Conclusions c systemically written against the hospital:
The hospital management violated the law on several counts. It requires both strength and regulations on management and quality improvement.
– I will never recover. But now I feel at least some relief, says Gudbergsdottir.
She reported the doctor and Sørlandet Hospital to the police. Police demanded that a case of surveillance be sent.
– We are investigating a possible violation of the Medical Staff Act, confirms Kenneth Rafaelsen, head of the investigation department at Kristiansand Police Station.
No charges have been filed in the case.
– We will examine whether the doctor did something wrong, whether it is a systemic defect or whether both the doctor and the hospital did something wrong, says Rafaelsen.
Criticism of the hospital
The Kazakh doctor worked for eleven years as a chief physician in the orthopedic department in Flekkefjord. He was not an orthopedist. Nevertheless, he left this position from the first day he was hired in 2008.
He did not have a six-year specialization.
The management of Sørlandet Hospital knew this. They still allow him to perform advanced operations.
For example, he inserted hip prostheses that should never be inserted.
The doctor himself said it was a major operation. The local hospital was threatened with closure. It was important to maintain high activity, he asserted.

I thought it was safe
Following several media reports of supervisory cases in Flekkefjord, the doctor was transferred to Kristiansand. There he had to be educated in orthopedics.
When the PRC initiated a case where the Norwegian Medical Board wanted to examine a doctor, director Nina Mevold did not want to remove him from custody.
She claimed it was safe. He had to educate himself.
Shortly afterwards, NRK was able to reveal that he had had an incorrect operation again. And he operated on himself.
The Norwegian Medical Committee then decided to set up so-called individual doctor supervision. They thought it could be dangerous for patients. His license was also revoked during the investigation.

Eight cases of patients
Half of the control cases in the investigation have already been decided. The offenses were concluded.
Several cases became supervised cases after the PRC captured patients.
The physician is involved in a total of 16 control cases. Four not involved in the investigation are still pending.
According to the PRC, the doctor was abroad. He resigned from Sørlandet Hospital last summer.

Source link