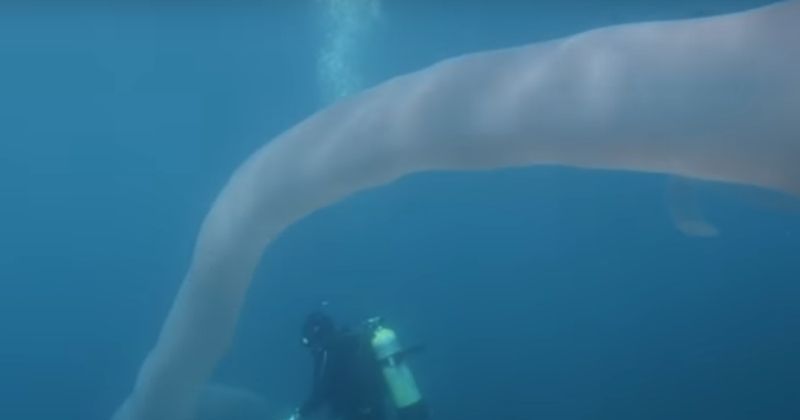 [ad_1]

It's not so common that divers find mysterious creatures in the sea. If they are lucky, they may find a bizarre sea creature, which looks like the deepest chicken or the world's oldest shipwreck.
Two divers in New Zealand encountered a 26-meter sea creature, similar to worms, and this also in person. Reports indicate that two divers, Steve Hathaway and Andrew Buttle, dived off Whakaari, White Island when they saw a mysterious creature.
Read more: The bizarre sea, called the "headless chocolate monster", has detected funny bugs
In a video clip that happens virally, a worm appears, which changes when it slowly moves into the sea. The strange being was defined as pyrosom – a small creature that forms hollow tubes sealed at one end.
Read more: The oldest shipwreck, most likely spent 2,400 years in the Black Sea
"I always wanted to see one. I was excited, it's like looking for something that you've been dreaming for so many years," said Hathway for NDTV.
Do not miss it
<! –
->
<! –
->
How strange and amazing is that?!
<! –
->
window.twttr = (function(d, s, id) { var js, fjs = d.getElementsByTagName(s)[0], t = window.twttr || {}; if (d.getElementById(id)) return t; js = d.createElement(s); js.id = id; js.src = "https://platform.twitter.com/widgets.js"; fjs.parentNode.insertBefore(js, fjs);
t._e = []; t.ready = function(f) { t._e.push(f); };
return t; }(document, "script", "twitter-wjs"));
(function(d, s, id) { var js, fjs = d.getElementsByTagName(s)[0]; if (d.getElementById(id)) return; js = d.createElement(s); js.id = id; js.src = "//connect.facebook.net/en_US/sdk.js#xfbml=1&version=v2.9"; fjs.parentNode.insertBefore(js, fjs); }(document, 'script', 'facebook-jssdk'));
window.fbAsyncInit = function() { FB.init({ appId : '117787264903013', status : true, xfbml : true, version : 'v2.9' // or v2.0, v2.1, v2.2, v2.3 }); };
var scr = document.createElement("script"); //scr.src = "https://notifications.indiatimes.com/js/main.js" + "?ts=" + new Date().getTime(); scr.src = "https://staticresources.indiatimes.in/resources/themes/indiatimes_desktop_default/js/webnotification/main.min.js"+ "?ts=" + new Date().getTime(); scr.async = true; document.getElementsByTagName("head")[0].appendChild(scr);
[ad_2]

Source link