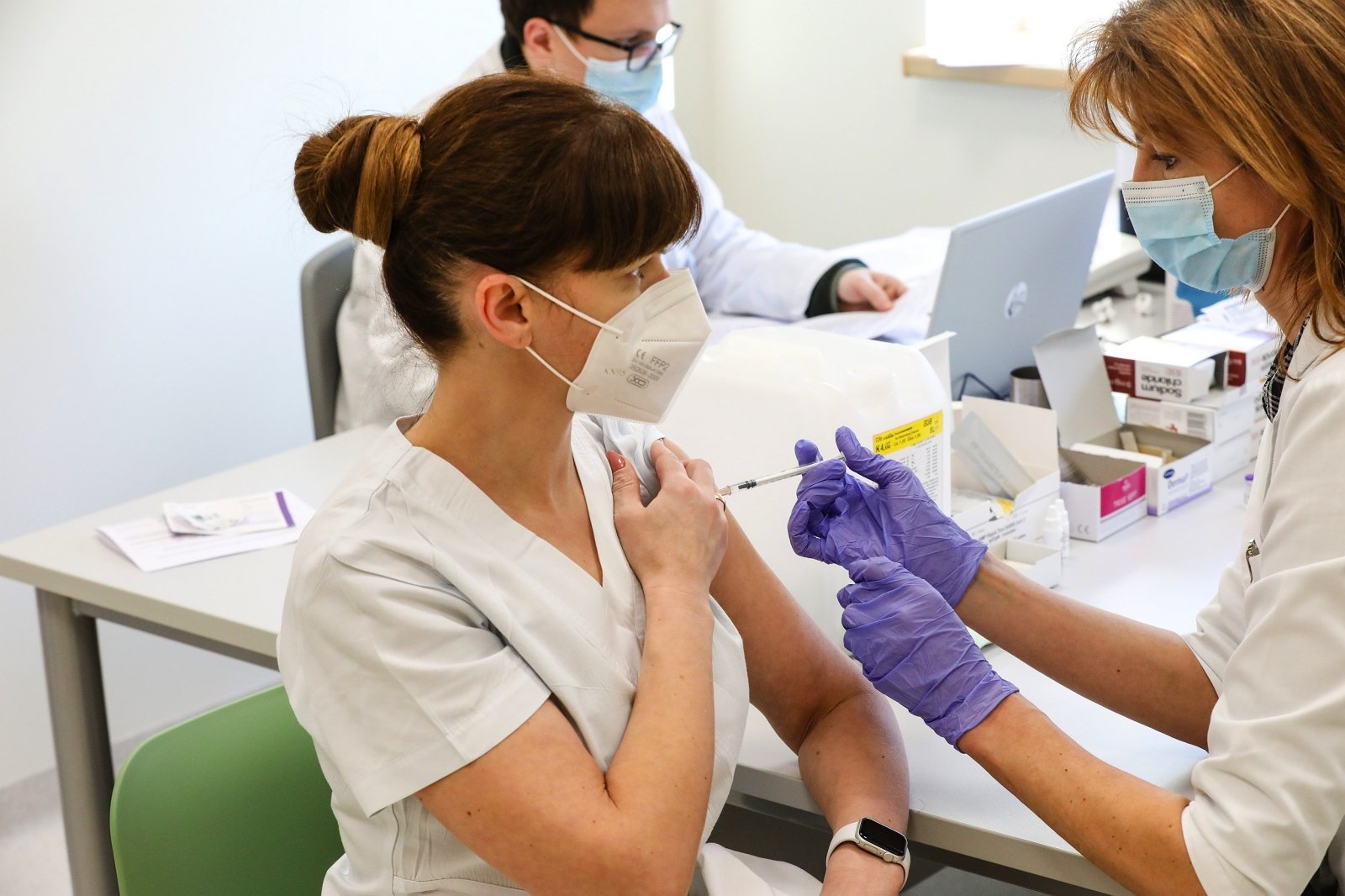 These 12 questions asked by Internet users can be divided into several categories: preventive measures and quarantine restrictions, the effect of vaccine on vaccines, contacts and the effect of the vaccinated person on others. We will discuss each of these categories separately.
A message posted on social media omits important information
© Screenshot
Why do vaccinated individuals still need to take preventative measures?
The Communication raises the following questions about quarantine restrictions and the government's alleged backlash:
¤ "If I get vaccinated, will I be able to stop wearing the mask?" Government: "NO".
¤ "If I get vaccinated, will everything return to normal life: jobs, businesses, recreation, schools, etc.?" Government: "NO"
¤ "Will I be able to get vaccinated if I get vaccinated?" Government: "NO"
¤ "If I get vaccinated and my parents and grandparents get vaccinated, will we be able to hug?" Government: "NO". ["Facebook" pasidalintos žinutės citata]
The U.S. Centers for Disease Control and Prevention has actually placed the issue of vaccinated individuals and compliance with preventive measures to prevent new coronavirus on the COVID-19 list of common questions about vaccines. The truth is that it is not enough to answer these questions with a "no" but to understand the reasons why people who have already received the vaccine should still be careful.
First of all, it is important to know that vaccination against COVID-19 will take a long time. In Lithuania, as in many other countries of the world, people are at first risk, who will only later vaccinate the population, which according to the vaccination plan against COVID-19, available on the website Koronastop.lt, will last until the end of this year.
As all COVID-19 vaccines approved in Lithuania to date achieve maximum efficacy only after two doses of vaccine, a person waiting for the second dose is still at risk for COVID-19 disease, although this risk is lower than in those who have not yet been vaccinated at all.
It is also not yet clear whether a vaccinated person can become an asymptomatic carrier of the virus. In this case, keeping your distance and wearing masks can help protect the people around you.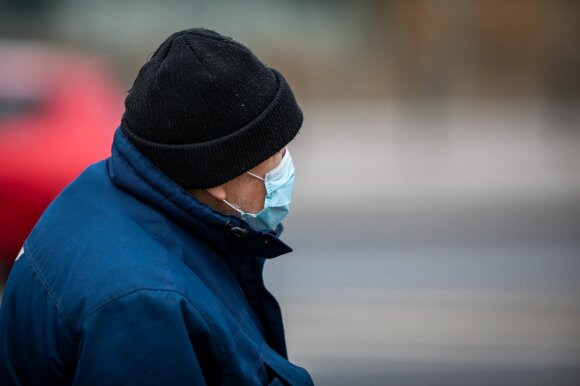 © DELFI / Andrius Ufartas
The statement that life will not return to normal and that restrictions will still apply after vaccination cannot be answered unequivocally. Every vaccinated person brings together the hope of returning to a normal life, but, as already mentioned, the majority of the population will be vaccinated and until a critical mass of those vaccinated is reached, the virus will continue to spread.
According to the World Health Organization (WHO), herd immunity will not be achieved this year due to delays in vaccination worldwide, which will require the production and injection of billions of vaccines, and measures to prevent the spread of the virus will be important at least until the end of the year.
Can a vaccinated person still infect others and why not rush to continue contact?
The following issues listed in the Facebook post could be included in this topic:
¤ "If I get vaccinated, I won't infect others, right?" Government: "NO, the vaccine does not stop the transmission."
¤ "Will I be able to get vaccinated if I get vaccinated?" Government: "NO"
¤ "If I get vaccinated and my parents and grandparents get vaccinated, will we be able to hug?" Government: "NO".
¤ "Will I protect 100% of the people I have contact with after vaccination?" Government: "NO". ["Facebook" pasidalintos žinutės citata]
As already mentioned, direct answers to complex questions can distort the truth. We cannot categorically claim that a vaccinated person will continue to endanger others, as scientists have not yet answered this question, but the risk that a vaccinated person but infected with COVID-19 will still transmit the infection to others without getting sick … For this reason, it is important to take all preventive measures to stop the infection.
In clinical trials with COVID-19, the main aim was to assess whether the vaccines effectively protected the vaccinated individual against COVID-19 disease and not whether the vaccinated individual no longer posed a risk to others.
All vaccines currently approved for use have been shown to elicit an immune response and provide protection against infection in a person who has been vaccinated, but they are all injected deep into a muscle. This is quite sufficient for the vaccinated person's body to start producing antibodies and for the person not to get COVID-19, but the antibody production may not work fast enough to protect all areas.
The problem arises from the realization that the SARS-Cov-2 virus first attacks the nasal mucosa and although some antibodies will protect this area by circulating in the blood, it is not clear how many there are and how quickly they can be mobilized once the virus enters the human nasal mucosa. If there are not many such antibodies, sneezing or breathing can spread the virus even without the person being vaccinated.
As Marion Pepper, an immunologist at the University of Washington in Seattle, told nytimes.com, this is like a race to find out which is faster – the human immune system that produces antibodies, or the ability of a virus to reproduce.
However, experts say they are not losing optimism in the hope that a person who has acquired immunity to COVID-19 will become less contagious than unvaccinated. Yale University immunologist Akiko Iwasaki commented that even if a vaccinated person becomes infected with the coronavirus, the ability of the virus to reproduce in the human nose should be limited.
Does the vaccine protect against COVID-19 and why is it worth vaccination at all?
The second thematic group includes issues that seek to negate the benefits of the vaccine to the vaccinated person's health and the importance of COVID-19 immunization in general. The following questions can be included in this group:
¤ "If I get vaccinated, will I be resistant to Covid?" Government: "Maybe. We don't know exactly, but probably not."
¤ "If I get vaccinated, how long will the vaccine last?" Government: "No one knows. All Covid vaccines are in the experimental phase."
¤ "What are the benefits of vaccination?" Government: "I hope the virus doesn't kill you."
¤ "Can you make sure the vaccine doesn't hurt or kill me?" Government: "NO"
¤ "Statistically the virus is not fatal (99.7% survival), why would it be vaccinated anyway?" Government: "To protect others."
¤ "If I have serious side effects, long-term health problems (not yet studied) or die from the vaccine, will I / my family be reimbursed by the manufacturers or the government?" Government: "NO – both the government and vaccine manufacturers have no responsibility for this experimental vaccination." ["Facebook" pasidalintos žinutės citata]
It should first be noted that all COVID-19 vaccines currently approved for use in the European Union and thus in Lithuania have been tested in clinical trials to determine the efficacy and other characteristics of the vaccine. The claim that a vaccinated person does not develop resistance to COVID-19 is incorrect.
The COVID-19 vaccine, developed by Pfizer and BioNTech, showed 95% in the third phase of testing. Modern 94.4% and AstraZeneca 82%. efficacy after administration of both doses of the vaccine.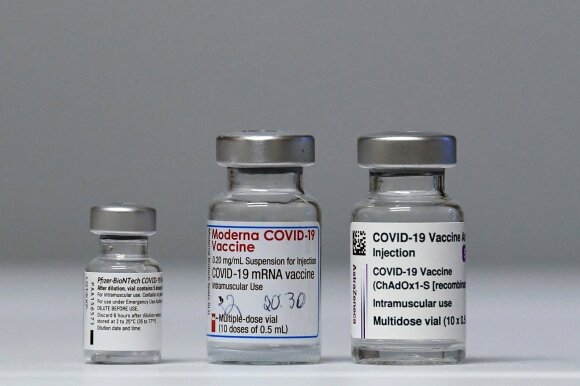 Vaccines for covid-19
© Reuters
Thus, in clinical trials, all vaccines have been shown to be effective in preventing COVID-19 disease, hospitalization, and death from the new coronavirus.
True, the question of how long the vaccine will protect the new coronavirus is harder to answer. Determining the duration of protection requires time and further research.
Due to the lack of universal protection for vaccines, some provide lifelong protection against the disease, while other vaccines, such as influenza vaccine, are vaccinated annually, and it is still difficult to determine the fate of COVID-19 vaccines. It is likely that COVID-19 vaccines will need to be restarted with a maintenance dose or vaccinated against the new coronavirus annually.
In any case, experts remain optimistic. Michael Toole, a professor of international health at the Burnet Institute, told reporters that most vaccines give much more immunity than the onset of the disease, so we expect the same results from COVID-19. In addition, the initial results of the vaccine protection period published by Moderna are encouraging. According to data released last December, the immune response of people vaccinated 4 months after vaccination still worked well.
When asked, internet users also wondered who should be vaccinated at all if the "virus is not statistically fatal" and there is still a lack of information about the long-term side effects of the vaccine.
However, even these questions cannot be answered in a single sentence. First, it is too early to attempt to accurately estimate SARS-Cov-2 virus mortality, which lasts only one year, as the mortality rate of cases does not reflect the true risk of death. First, it is not possible to trace all COVID-19 infected in a pandemic, so it is never entirely clear what proportion of the population is sick at all, and second, the mortality rate changes over time, as well as from place to place. For example, a scientific article published in The Lancet last March gives case mortality rates in several countries on March 16th. While the mortality rate in Germany today was only 0.2%, in Italy it was 7.7%.
Age group and co-morbidities also have a significant impact on mortality rates.
For this reason, it would be wrong to claim that the new coronavirus is not statistically fatal, as this concept involves many factors. Depending on who is most at risk from the virus, vaccination schedules should be set accordingly, in particular to protect the most vulnerable.
Finally, the latest issues in the report seek to intimidate the side effects of COVID-19 vaccines, but they should not be overly feared. In clinical trials, all vaccines approved for use in the EU were safe and weighed the potential risks. The most common side effects include reactions such as pain or swelling at the injection site, fatigue, fever, headache and muscle aches.
Similar side effects visit us and are vaccinated with conventional vaccines and are by no means remarkable.
It is strictly forbidden to use the information published by DELFI on other websites, in the media or elsewhere, or to distribute our material in any form without consent, and if consent is obtained, DELFI must be cited as a source.