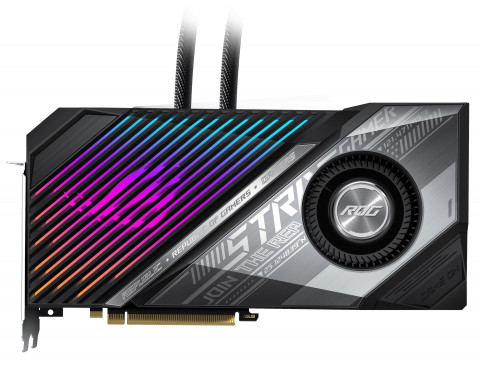 Seoul – (Newswire) November 26, 2020 – Asus Korea, the Korean subsidiary of ASUS, the global computer company (CEO, In-Seok Kang, hereinafter Asus), is based on the 'ROG STRIX' and 'TUF Gaming' lines. It has announced that it will release a graphics card with the AMD Radeon RX 6800 XT based on the latest RDNA2 architecture.
Asus '" newly introduced "ROG STRIX LC Radeon RX 6800 XT and" TUF Gaming Radeon RX 6800 XT "are high-performance graphics cards with AMD's latest 7-nanometer process and RDNA2 architecture known as the" Big Butterfly ".
With AMD Infinity cache and up to 16GB of dedicated GDDR6 memory, you can create the best gaming environment with frame rate and 4K resolution while playing games. With AMD Smart Access Memory technology, up to 11% of additional performance can be displayed when playing games with the AMD Ryzen 5000 series.
In addition, it supports PCI Express 4.0 with up to 16 GT / s, FidelityFX, which improves game graphics, FreeSync, which supports high-resolution screens without tearing at high resolution, and anti-rack, which uses fast response without delay. speed. The latest technology was used.
The ROG Strix LC Radeon RX 6800 XT has a customized water cooling module that supports the stable operation of high-end graphics processors via 600 mm cooling water pipes and fans. In addition, the heat transfer area and efficiency are increased by a cooler occupying 2.9 slots, and three fans with the latest Axial-Tech design reduce noise levels and ensure stable airflow.
The TUF Gaming Radeon RX 6800 XT has a 2.9 slot cooler and three Axial-Tech fans. The central fan of the Axial-Tech fan rotates clockwise, and both side fans rotate counterclockwise to reduce turbulence and increase heat dissipation. In addition, the back panel has an additional hole for easier airflow. A fully automated process (Auto-Extrem technology) is used, which ensures high reliability and long service life of the ASUS TUF Gaming brand with a high-quality production process and 144 hours of testing.
Asus said that with the release of the AMD Radeon RX6800XT, you will be able to enjoy high gaming performance with AMD Smart Access technology if you use them together with Ryzen. Revealed.
For further support and pricing inquiries regarding Asus graphics card products, please contact Daewon CTS, the official Asus Korea graphics card distributor in Korea.
Website: http://kr.asus.com
This news is a press release issued by companies and organizations. Can be used for news reporting. Use of information 
Source link