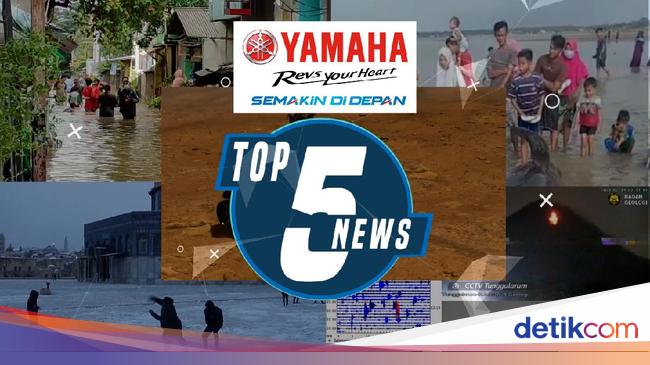 Jakarta –
NASA has managed to land its most sophisticated robot on Mars. A robot named Perseverance managed to get through a 7-minute crisis that decided whether this rover would land successfully or not.
Meanwhile, Jakarta DKI Governor Anies Baswedan boasts that the Cipinang Melayu area, eastern Jakarta, was no longer flooded in early February. This morning, however, four RWs were flooded in Cipinang Melay.
In addition to the two news above, there are some other hot topics today. Friday's issue of Top 5 News follows (February 19, 2021).
1. NASA's robot lands smoothly on Mars
NASA's robotic rover Perseverance has just arrived safely on the surface of Mars. The most modern rover of the American space agency immediately sent the first pictures from there.
This rover landed in the crater of Lake Crater, which is said to contain traces of ancient life. The first photo shows the surface of Mars and the horizon in the background. The shadow of the Perseverance rover is also visible.
Full article: NASA Robot submits first photo
2. Cipinang Melayu Flood again
Jakarta DKI Deputy Governor Ahmad Riza Patria said Cipinang Melayu was flooded again due to heavy rainfall. Riza also acknowledged that Cipinang Melayu is one of the regular flood spots in Jakarta.
According to him, the number of flood data has decreased in the last three years. However, he did not state what the fall was.
Full article: Deputy Governor: High rainfall
3. Al-Aqsa Mosque, covered with snow
The city of Jerusalem was covered in snow for the first time in six years. Sacred buildings such as the Al Aqsa Mosque and the Wailing Wall also look white.
Snow is known to have started falling last Wednesday night when storms and cold temperatures hit the Middle East, including Jerusalem. Israeli police told the AP they had to close the main roads between Tel Aviv and Jerusalem due to heavy snow.
Full article: Visits to the snow-covered Al-Aqsa Mosque
4. Whales ran aground on Bangkalan beach
Dozens of whales have been stranded on the shores of the villages of Patreman, Modung, Bangkalan, Madura since Thursday (18/2). The three surviving whales were returned to the middle of the sea.
East Java Governor Khofifah Indar Parawansa, who came to check the location, said samples of stranded and dead whales would be examined to determine the cause.
Full article: 49 stranded whales
5. Merapi is still volatile
Mount Merapi is still in turmoil. Glowing drops of lava on Mount Merapi are still common. According to a report by the Geological Disaster Research and Development Center (BPPTKG), Merapi experienced 25 incandescent avalanches in 12 hours.
BPPTKG leader Hanik Humaida explained in his report that the lava avalanche is directed towards the southwest sector, namely towards Kali Krasak and Boyong with a maximum sliding distance of 1200 meters.
Full article: Merapi is presented by Lava Pijar in 12 hours
[Gambas:Video 20detik]
(works)
Source link