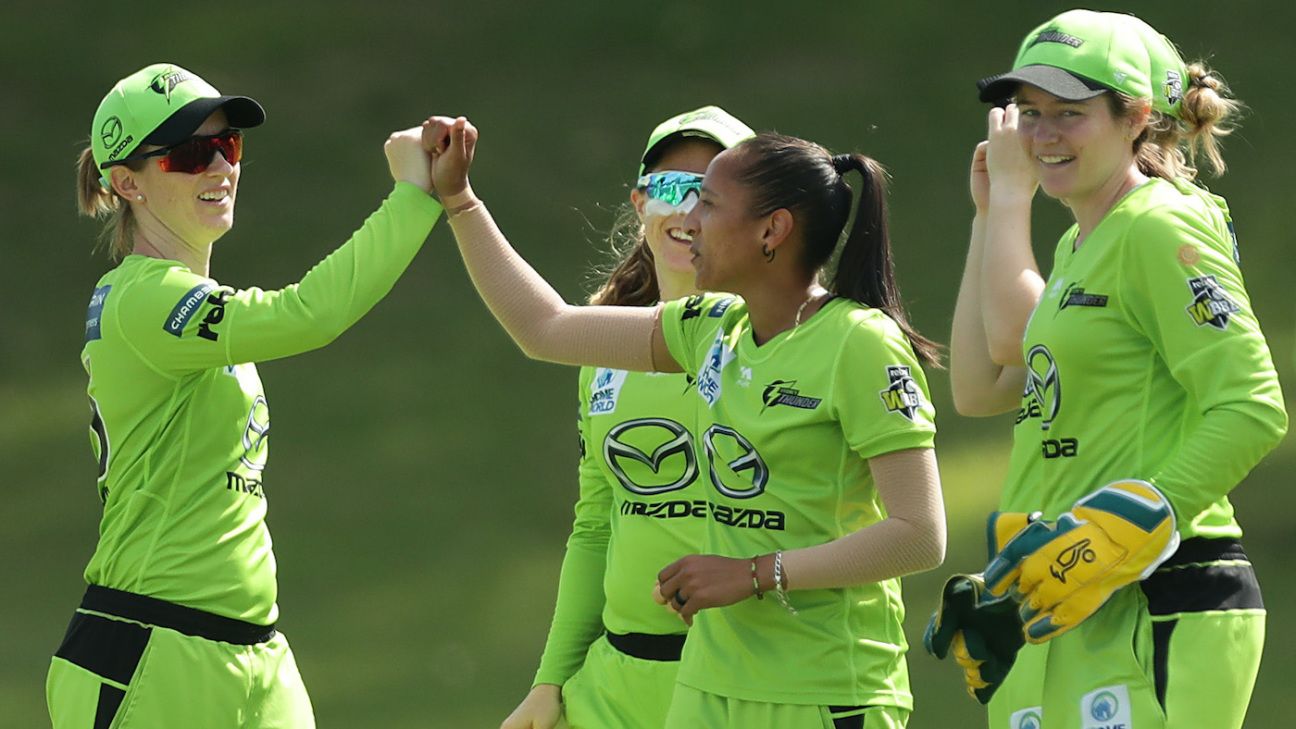 Big picture
In the WBBL final, Australian captain Meg Lanning will face her vice-captain Rachael Haynes. The Melbourne Stars qualified for the knockout for the first time and faced the Sydney Thunder, which is in its first final since the inaugural edition of the tournament.
The Stars were an outstanding team of the tournament, breaking through to a few group defeats in the hinterland, but they came together to eliminate the Perth Scorchers altogether.
The Thunder were less consistent in the round, but won when it mattered, most spectacularly in their semi-final against the Brisbane Heat when they reversed a game that seemed lost – although the players themselves said the belief never faltered.
While both teams have power in their XIs, it may happen that the stellar striking verses of Thunder will be different bocce attacks – not even that the stars are not lacking in this area at all. Lanning, Elyse Villani, and Mignon du Preez led the way to the stars, backed by Nat Sciver and then fast-growing Annabel Sutherland with key cameras by Alane King (who was also a star with the ball in her hand).
Thunder's attack includes the pace of Shabnim Ismail, the powerplay skills of left-handed spinner Sam Bates, the experience of Sammy-Jo Johnson and, as shown in such a big performance in the semifinals, yorkers Hannah Darlington.
Above all, however, this tournament was played entirely because of the challenges it had to overcome. Life at the hub was not easy for many players – Haynes admitted she "didn't enjoy it" but accepted the new normal and overall the action on the field was quality with established stars becoming high and young standout names. Hopefully the finale will be a fitting conclusion.
Form Guide
Stars WLLWW (last five completed matches, last first)
Thunder WWWLW
In group work
No result – only four overs were possible on a wet opening weekend
The Melbourne Stars won with eight gates – for half a century du Preez led a comfortable hunt.
In the centre of attention
Such games are intended Meg Lanning. Her return to the Stars had a rejuvenating effect on the team they had hoped for. She led from the front with a stick, achieving runs with her usual effortless style, while showing strength that isn't always associated with her game – a sign of coach Trent Woodhill's influence. She can rely on her experienced actors, but she also trusts her youngsters, showing the way she used Tess Flintoff and Sophie Day in death baths.
Hannah Darlington he was the young player of the year last year, but he certainly didn't suffer any blues the second year. Her 18 goals, including a player of the match in the semifinals, scored 13.61 and an economical 6.44. Despite still being so early in her career, she is a death expert with her yorkers. "It's a nice power I have, I walk a lot on that ball and it's the one that's meant to deliver the door," she said. "It's crucial to try to pull off punches and not be too defensive."
Probably XI
Melbourne Stars: 1 Elyse Villani, 2 Meg Lanning (capt), 3 Mignon du Preez, 4 Nat Sciver, 5 Annabel Sutherland, 6 Katherine Brunt, 7 Alana King, 8 Erin Osborne, 9 Tess Flintoff, 10 Nicole Faltum (week), Sophie Day
Sydney Thunder: 1 Tammy Beaumont, 2 Rachel Trenaman, 3 Heather Knight, 4 Rachael Haynes (capt), 5 Phoebe Litchfield, 6 Sammy-Jo Johnson, 7 Tahlia Wilson (week), 8 Hannah Darlington, 9 Lauren Smith, 10 Shabnim Ismail, 11 Sam Bates
Plot and conditions
The two semi-finals did not score high points, but the ball came out better in Thursday's second game. The North Sydney Oval is known as a good base, although a few offers were available. It's dedicated to a hot day in Sydney that leads to a warm evening.
Quotes
"We showed that our skills can match anyone in this competition. We're looking forward to tomorrow night and it's everyone's match. In the end, at the big match, you saw that the pressure can cause people to do funny things."
Rachael Haynes
"It's great that we've had some success. The last few years haven't been as good as we'd like them to be, so far we've done a great job of getting to where we come from below to first after the circuit games. it was a lot of fun, but we definitely came here to win the tournament. "
Meg Lanning
Source link