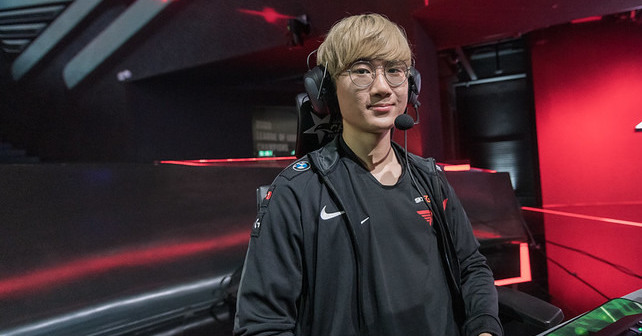 Well-known team "League of Legends" T1 announced today that it has successfully extended the contract with Gumayusi players until 2022. As for the assessment of the English station LCK, LS has determined to join T1 as a live broadcaster and content creator. T1 CEO Joe Marsh today apologized to most T1 fans, affected Effort and LS players for questions such as LS rumor that they will join a coaching team that causes player dissatisfaction, the T1 team suspected of having too much outside affairs and that the players interrogate them without determination to win.
Gumayusi, nicknamed Xiao Lu Bu, is an ADC T1 player, started with SKT training, and his brother is the famous "StarCraft" INnoVation player. He also played in the 2020 season, and his performance also impressed many players. Today, T1 announced that it will extend its contract with Gumayusi until 2022.
T1 has announced a successful contract extension with Gumayusi players until 2022
As for the origin of the incident that led to CEO Joe Marsh apologizing, it was announced live on the Internet in a Discord chat on the Effort screen that it was revealed that former "StarCraft 2" actor Polt and an English station comment LCK LS joined the T1 coaching team. Although European and American players are excited about it, LS clashed with former SKT player Untaro and criticized Untaro when he served as the team's coach to protect his own players. This caused many T1 fans to be quite unhappy with her. In addition, previous T1 members joined BTS After the show, some fans calculated that this was during the season, so they were quite unhappy with the T1 management's emphasis on a variety of shows and underrated events. T1 even sent wreaths in protest and criticized the T1 expert team for being dead.
Although T1 later announced that the coaching staff had been selected to coach world champions DWG DAENY and ZEFA and POLT was only the general manager of the team and the original LS was not on the list, his LS experience affected LS fans, causing him to This incident has become a hot topic in the gaming world between South Korea and Europe and the US.
At the beginning of the statement, Joe Marsh apologized to all fans of T1 and the League of Legends community, apologized for the incident caused by Discord, and stressed that he and the team would re-evaluate the community process and guidelines to ensure to do so. Better. He emphasized that additional measures would ensure that the players' training would not be disrupted and that appropriate corrections would be made, and that the shooting time would be arranged in advance so that their schedule and any media work would not hinder their performance. He knows that fans are not happy with the results of the T1 team this year. He will meet with Polt, Daeny and Zefa to assess the best lineup of the team. They are a team that wants to win more than anyone. If they give the impression now That is to say, they are not one hundred percent focused on winning and deeply apologize.
He also deeply regrets that Effort and his family were attacked because of this event. Earlier, T1 explained that the live broadcast of Effort players had run out. The staff did not completely shut down the live broadcast system. Players accidentally used a computer in a live broadcast room when there was no live broadcast. This caused the computer screen to transfer to the live broadcast channel and drain, causing players problems. Joe Marsh said this was caused by a mistake in their media in the live broadcast. He deeply regrets that Effort was forced to face these criticisms. Effort is a valuable and popular player in the T1 organization.
Trud (photo source: Riot Korea)
She also apologizes for everything LS has experienced in the last few weeks. He also apologizes for the pain the family and friends of LS suffered. He regrets that T1 fans have been accused of harassing the LS family, but he truly believes that no T1 fans will do so. Regarding the rumors that LS's grandmother received a threatening package, she and LS have already reported the case to the police. As they are under investigation, no further comments can be made. He once again apologized to LS and T1 fans.
LS also responded today via his personal YouTube, first apologizing to Untari and giving his story of the enthusiastic behavior of Koreans in Korea, emphasizing his love for Korea, and T1 also gave it in the face of recent events. There will be strong support
Join T1 as a live broadcaster and content creator.
Source link