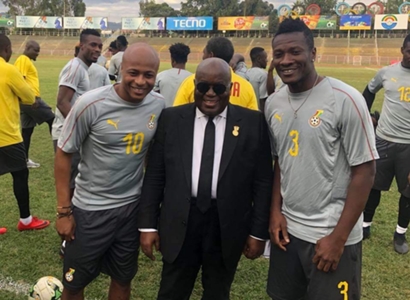 [ad_1]

The first gentleman in the country went to the Black Stars camp in Addis Ababa to motivate them before a key event with Walias
The president of Ghana, Nana Akufo-Addo, visited the Black Stars in Adis Ababa on Sunday, before qualifying the Africa qualifier group in 1985 against Ethiopia.
Kwesi Appiah's men are the third in a group with three points and are very much needed to win the finish in Kenya, which tops seven points.
The visit came at the right time as the president assured the participants of his support and promised to provide everything needed to facilitate their qualification and win the Afcon trophy.
"We defeated them 5-0 at home, right? That's in Kumasi, so you have to repeat it before your home fans," the president said.
"We have already won the Afcon Cup for a long time, the last time we did it in 1982, and that's a very long time, so we beg you to try to win this time.
"You have a famous coach and I am here to wish you good luck and I promise you I will support the victory," he added.
Akufo-Addo was deliberately in Addis Ababa for the 11th Extraordinary Meeting of the Association of African Unions, attended by 55 Heads of State. The program started on Saturday and will end on Sunday.
The article continues below
Ghana President @NAkufoAddo this evening they visited Black Stars in their training in Addis Ababa before the Afcon qualifer against Ethiopia.

Kwesi Appiah's men have to avoid stagnation or defeat so they will have the opportunity of the 8th consecutive appearance in the competition. pic.twitter.com/D6xfeJ5qaX
– Evans Gyamera-Antwi (@ashesgyamera) November 17, 2018
The Ghanaian contingent, which consists of 19 players, arrived in Ethiopia on Saturday after pushing a camp in Kenya on Tuesday.
[ad_2]

Source link