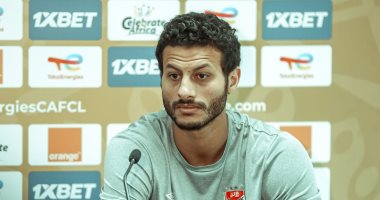 The Olympic team, led by Shawky Gharib, expects the arrival of the Al-Ahly club quartet Mohamed El-Shennawy, Salah Mohsen, Taher Mohamed Taher and Akram Tawfiq today, Sunday or tomorrow, Monday, after the last match in Tokyo. The African Champions League against the South African Kaiserchiefs yesterday in Morocco.
Al-Ahly has agreed with the Football Association that the Al-Ahly quartet will travel directly to Tokyo after a private jet match to prepare for catching up with Spain's first match at the Tokyo Olympics next Thursday, and the quartet will leave Morocco this afternoon for Japan. .
And the technical staff of the Egyptian Olympic team, led by Shawky Gharib, has decided to continue to rely on your 3_4_3 path at the Tokyo Olympics, just as the team at the African Under-23 Championships played with crowned the pharaohs with its title.
The first match of the Egyptian Olympic team, led by Shawky Gharib, against Spain will take place at the Sapporo Dome Stadium next Thursday at the opening of the Pharaohs at the Tokyo Olympics.
On Friday morning, the Egyptian Olympic team arrived in Tokyo after a 12-hour flight by private plane in preparation for the Tokyo 2021 Olympics, which begins on July 22 with a match between Spain and Argentina on the 25th and Australia. on 28 ..
The technical staff of the Olympic team, led by Shawky Gharib, took 18 players to Tokyo to join the Egyptian delegation, Al-Ahly has 4 players after the African Champions League final against Kaizer Chiefs, the African champions in Morocco. .
Al-Ahly won the African Champions League title for the tenth time in its history at the Kaizer Chiefs in South Africa, after winning the landslide three times without a response on Saturday, in the last match of the 2021 Continental Championship at Mohammed V Stadium in Casablanca in Morocco.
Source link