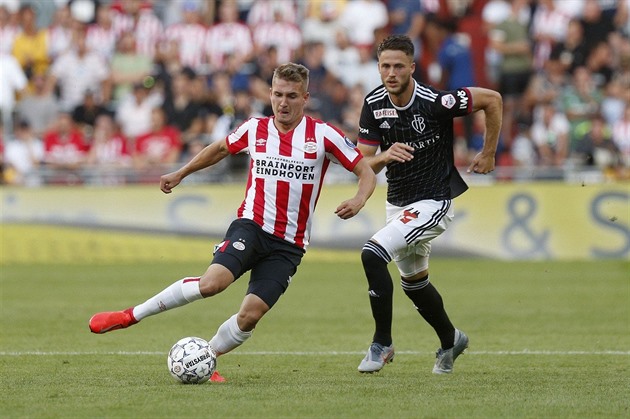 [ad_1]
esk footballer Michal Sadlek in action in the second round of the Champions League between PSV Eindhoven and Basel.

| photo: Profimedia.cz

The minute before the end, PSV Eindhoven is in a duel with the second league league champions against Basel and even achieved the same goal. The Dutch vice-champion beat the Swiss team 3-2 and the Czech representative Michal Sadlek played for the home team. Retaliation is played pt tden.
<! –->
Sadlek took an unconventional spot on the left, got a yellow card before the end and arrested the campaign after Eindhoven equalized 2: 2.
PSV led from the 14th minute, but in the first half the guests equalized and turned around in the 79th minute. After a corner kick, Omar Alderete hit the ground with a hard head on the ground and Basel took it as a substitute for the Czech representative Mark Suchho.
In the game Sadleku helped pulp, then the brush gave the glove to the action, which was finished by his teammate Sam Lammers.
At some point, the house played a short corner and, after mid-20s, Donyell Malen, who left the defense in Basel, decided on a fast base at Eindhoven.
Sadlek played for the first time a career for the Champions League qualifiers. In December last year, he started a 25-minute duel with Inter Milan.
Gly:
14. Bruma
89. Lammers
90 + 3. Small
Gly:
45 + 1. Ajeti
79. Balanta
Reports:
Zoet Dumfries, Viergever, Luckassen Lozano (82. Lammers), Gutierrez, Rosario, Sadlek, Bruma (77th Gacpo) Bergwijn, Malen
Reports:
Omlin Widmer, Cmart, Alderete, Xhaka Frei, Balanta (90 +1 Pulul) van Wolfswinkel, Zuffi, Stocker (65. Okafor) Ajeti (89. Ademi)
Nhradnci:
Ruiter Boscagli, Gakpo, Hendrix, Lammers, Sainsbury, Thesis
Nhradnci:
No Ademi, Bua, Campo, Okafor, Pululu, Riveros
LUT cards:
73. Bergwijn, 84. Sadlek
LUT cards:
63. Xhaka, 73. Widmer, 89. Ajeti
Decision: Treimanis Gudermanis, Spasjonnikovs (against Latvia)
Gly:
Gly:
18. Sotiriou
61. Skov
Reports:
Harrison (C) Edwards, Harrington, Davies, Spender Mullan, Routledge, Redmond, Brobbel, Cieslewicz (75. Nembhard) Ebbe (56. Draper)
Reports:
Grytebust Bartolec, Nelsson, Papagiannopoulos, Bengtsson Skov, Falk Jensen (35. Zeca), stage, Holse N 'Doye (C) (46th wind), Sotiriou (62. Fischer)
Nhradnci:
Roberts Byrne, Draper, Hughes, Marriott, Nembhard, Whitehouse
Nhradnci:
Johnsson Bjelland, Fischer, Thomsen, Varela, Wind and Zeca
LUT cards:
59. Davies
LUT cards:
Decision: Harkam Witschnigg, Staudinger (v. AUT)
Gly:
Gly:
67. Ori
78. Friday
Reports:
Mineinvili Mali, Margvelavili (C), Lakvecheliani Gonalves, Diasamidze (82. Cnobiladze), Altunlali (70. Gabedava), Tera (57. Kakubava) Rol, Chochrejdze.
Reports:
Livak Pinto (50th), Lek, Peri, Leovac Kdzior, Ademi (C), Gojak (86th) Hajr, Gavran (68th Friday), Ori.
Nhradnci:
Kupatadze Gorgiavil, Kakubava, Guliavil, Gabedava, Cnobiladze, Chabradze.
Nhradnci:
Horka Petka, Unji, Atiemwen, Majer, Moro, itum.
LUT cards:
26. Lakvecheliani, 42. Chochrejdze, 76. Margvelavili, 77. Rolovi, 90 + 2. Gabedava
LUT cards:
44. Kdzior, 59. Leovac, 84. Gojak
Decision: Petr Ardeleanu Ivo Ndvornk, Jakub Hrabovsk (all CZE)
Reports:
Gilgen Ciger, Nedi, Sofranac, Bulat Janko, Erak Kojaevi, etek, Vui Mark
Reports:
Belec Vouros, Lafrance, Ioannou, Mihail Jakolis, Gentsoglou, Lucas, Al-Tamari De Vincenti, Hallenius
Nhradnci:
Licina Boovi, Bubanja, Grivi, Nikoli, Osijek, Vlaisavljevi
Nhradnci:
Waterman Alef, Bezjak, Makris, Mati, Paul, Savi
LUT cards:
38. Mark, 61. Vui
LUT cards:
18. Gentsoglou, 29. Ioannou, 68. Belec
Decision: Istvn Vad Istvan Albert, Peter Berettyn ​​(against Hungary)
<! –->
[ad_2]
Source link