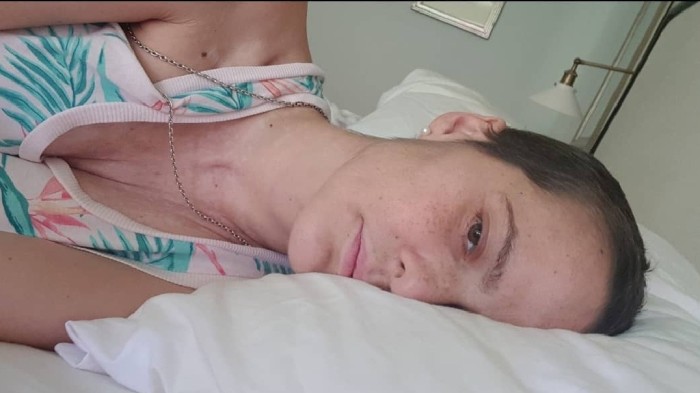 Javier Suárez shared a delicate publication on Instagram, where she said how poor it was in the past few days for the treatment of cancer.
She is a journalist for a week in Colica with her husband, Cristian Arriagado, his son Pedro Milagros and his dog Bartol.
"This will also happen," Javiera called a publication in which he shared a series of paintings: "This is the first photo in Colic today. A week ago, we arrived with @drcristianarriagada, Pedrito and Bartol. The photo shows the smile, the colors, the sun! But it was not so.
He then added that "when they want to know what your degree of pain is, they always ask: from 1 to 10, one, no pain, and ten, the worst. How do you feel? Today I feel 7 pains. But after radiotherapy in the brain and mediastinum I was on the level of ten days. The remedies helped, but a little … or rather slow.
He also revealed that he has been suffering from oesophagitis for one week, causing him great pain, even if he swallows "As if swallowing a match".
This led to almost two days without eating food and just a little liquid. "I weigh 45 kilograms. Also on my radio my hair fell in an irradiated area. Although this does not matter to me, I'm covering it with a handkerchief"he said.
"I was crying desperately. I would think if I might be as painful as I would be mad. The feeling that my body is a cloth and I do not see how to move. One day I even got mad at God … Until then! I've been fucking three years. I have to be healthy. What costs you? "I cried to the stupid sky," he admitted.
She also said that her husband and her family and friends are suffering with her, "but love and faith keep me in hope. There is a sentence that says "This will happen too" … and so it was … other photos show that I'm better today than yesterday. And tomorrow it should be better than today … and so let's go. "
His followers immediately sent hundreds of warm messages of support and incentives to continue fighting cancer.
Check out this post on Instagram

"WILL BE PREPARED" The first photo is today in Colic. A week ago we arrived with @drcristianarriagada, Pedrito and Bartol. Photo shows smile, colors, sunshine! But it was not so … Doctors, when they want to know what your pain is, they always ask: from 1 to 10, one, no pain, and ten, the worst. How do you feel? Today I feel 7 pains. But after radiotherapy in the brain and mediastinum I was on the level of ten days. The remedies helped, but a little … or rather slow. One week I had oesophagitis, which is the same as feeling, even saliva, like swallowing a match. After almost two days without eating food and only with very little fluids, I could enjoy 2 ice cream and eggs today. I weigh 45 pounds. Even on the radio, my hair fell in an irradiated area. Although it does not matter to me. I cover it with a handkerchief. I was crying desperately. I would think if I might be as painful as I would be mad. The feeling that my body is a cloth and I do not see how to move forward. One day I even got angry at God … "By the time I'm fucking 3 years old, I have to be healthy, how much does it cost?" I've been dragging on the tireless sky. My Cristián, my family and my friends are also suffering. Their love and Faith protect me. There is a phrase that says: "EVERYTHING IS PREPARED" … and so it was … other photos show that I'm better today than yesterday. And tomorrow it should be better than today … and so we go … Like this wonderful story that one of you wrote to me that it shed light on my day … Whatever you go … no matter what, how much it hurts, how hard it is or how you are afraid … remember … "ALSO ALSO" Amen