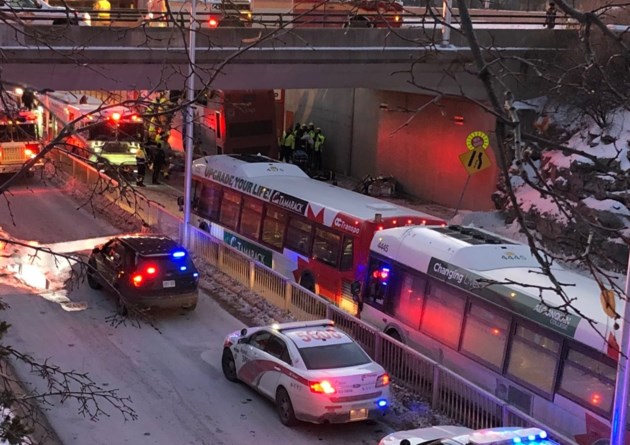 Government officials at all levels offer thoughts and condolences to the victims, as well as thanks to the first respondent after the double bus collision of OC Transpo, which claimed three lives at the Westboro station in Ottawa.
The incident occurred on Friday at 15:50, injured 23 and sent 17 to the hospital.
Nepean MP said that the accident reminded her of a new devastating incident that included the OC Transpo bus in Barrhaven in 2013.
I want to express my deepest condolences to the families of victims and to all those affected by today's tragic bus accident in Ottawa. We thank those who were the first to respond, who rushed to help – the situation is closely monitored.

– Justin Trudeau (@JustinTrudeau) January 12, 2019
Disappointed to hear about those who lost their lives and were injured after a terrible collision of a bus at Westboro Station in Ottawa. My thoughts are with the victims and their families in the evening. We thank those who first answered and helped everyone affected.

– Doug Ford (@fordnation) January 11, 2019
Terrible news in Ottawa. Our thoughts are with those on the bus and station Westboro, the families of those who are dead, and the loved ones who are waiting for the news.
We thank the crews for emergency situations, who work tirelessly at icy temperatures and help the victims.

– Andrea Horwath (@AndreaHorwath) January 11, 2019
A tragic day for our city. We recall the terrible fall of Barrhaven OC / VIA and how difficult it was for the victims, survivors, and our first responses, so that our thoughts with those who were affected in this terrible accident. We are a strong and supportive community. https://t.co/d6lwzmeeXF

– Lisa MacLeod (@MacLeodLisa) January 12, 2019
I was shocked when I heard about this terrible incident at Westboro Station. My first thoughts are about those who were injured and their families. I asked my employees to provide all the necessary funds to help in this difficult time. 1/2

– Jim Watson (@JimWatsonOttawa) January 11, 2019
Last update for Westboro: Our operations have been completed and we have cleaned the scene. We confirm 23 injuries and 3 fatalities. Our thoughts and prayers are with the victims of this tragedy and their families. Thanks for all the kind words we sent on the way.

– Ottawa Paramedic Svc (@OttawaParamedic) January 12, 2019
Our thoughts are with all those affected by a tragic bus accident #Ottawa today. If you are looking for loved ones, you can call the Red Cross merging line to the number 1 855 797 8875.

– Red Cross in Ontario (@RedCrossTalk) January 12, 2019
– OttawaMatters.com/Rogers Media