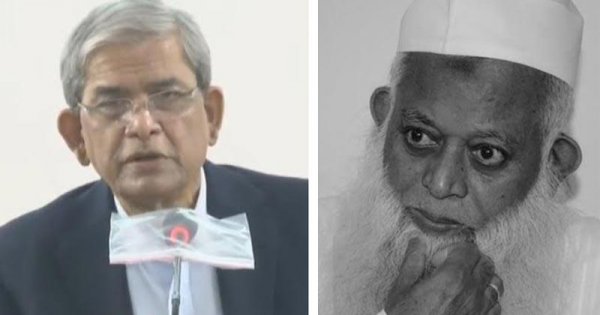 BNP Secretary General Mirza Fakhrul Islam Alamgir said Maulana Qasemi, who was Jamiat's secretary general, is a man of great respect. I personally had respect. He was a true democrat and a great scholar, an Islamic thinker. These problems have been arising since his death. There is no doubt about that.
The BNP secretary general said this at a press conference at the president's office in Gulshan on Sunday (July 18th). He held a press conference today to announce the decisions of the party's standing committee meeting on Saturday (July 18th). Mirza Fakhrul spoke in detail after journalists raised the issue of Jamiat's resignation.
Maulana Bahauddin Zakaria, acting secretary general of Jamiat, told reporters that the reason he left the 20-party BNP-led alliance on July 14 was that they did not protest the arrest of clerics and did not express sympathy for the death of the late secretary general. Jamiat Nur Hossain Qasemi and did not attend his funeral.
In this context, the BNP Secretary General said that a journalist called me the same day (July 14). I said, this is politics. Politics is a game of disintegration. Sometimes Ekul breaks, Ekul builds – that's how it goes. That's not the point. The thing is, they will leave under government pressure, court proceedings, extreme pressures, and many more jobs. They mostly work in madrasas. They can go. They can't stay in politics, they can go. But you better tell the truth when you go. They want to create a precedent by blaming others unnecessarily, which is not right. 'The GNP Secretary-General also claimed that the Jamiat faction has never had any problems with GNP.
Mirza Fakhrul said that the manifesto of the 20-party alliance at the time (at the time of its creation, in 2012) was an alliance of the movement against the fascist government and was supposed to go to the polls after the election. There, however, any partner party will pursue its own policy, speak for itself, there is no point in imposing itself like any other political party. The question cannot be asked. None of the things they said there are real, completely untrue.
He mentioned that he was ill at the time of Maulane Qasemi's death, the BNP secretary general said: "You know, that's when I went abroad for treatment." But as soon as he died, I made statements and condolences. Later, on March 26, when a number of problems arose focusing on Narendra Modi's visit, there were lawsuits, assaults and harassment, I always made a statement. I spoke at a press conference. I had a special press conference about them.
Fakhrul said, 'We … I am the first to make a statement about Alem-Olami. I don't know how they said that, why they said that (laughs). They didn't tell the truth. People hope that scholars will tell the truth. Unfortunately, I don't know if people will have that confidence now. If you don't tell the truth, you shouldn't stay. '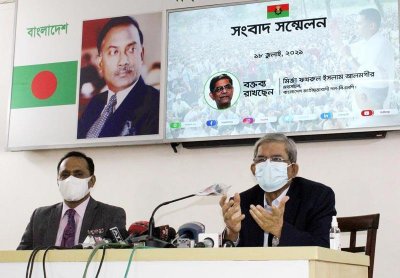 Regarding Jamiat's claims about Sharia, the BNP Secretary General explained: "And the issue of Sharia law is nowhere in our party. If they want to adopt Sharia law, let them do so. Our party has made it clear that we will not adopt any Sharia law. we had a government, we didn't.As a result, we are against Sharia law, saying that all this means a personal attack.
'I don't think they did well. They will move away from all these personal attacks. They can't survive in politics, they can't survive in opposition politics, so they're gone. He has to say that we cannot withstand the pressure of the government, "Fakhrul added.
Mirza Fakhrul said: "We are doing politics in accordance with the party manifesto led by Begum Khaled Zia and current acting president Tarique Rahman." The 20-party alliance is also involved in politics in the same way. We have excellent mutual trust.
Read more:
Politics is a game of breaking down and building: Mirza Fakhrul
Hephazate's secretary general died of the crown
Jamiat left the BNP-led alliance