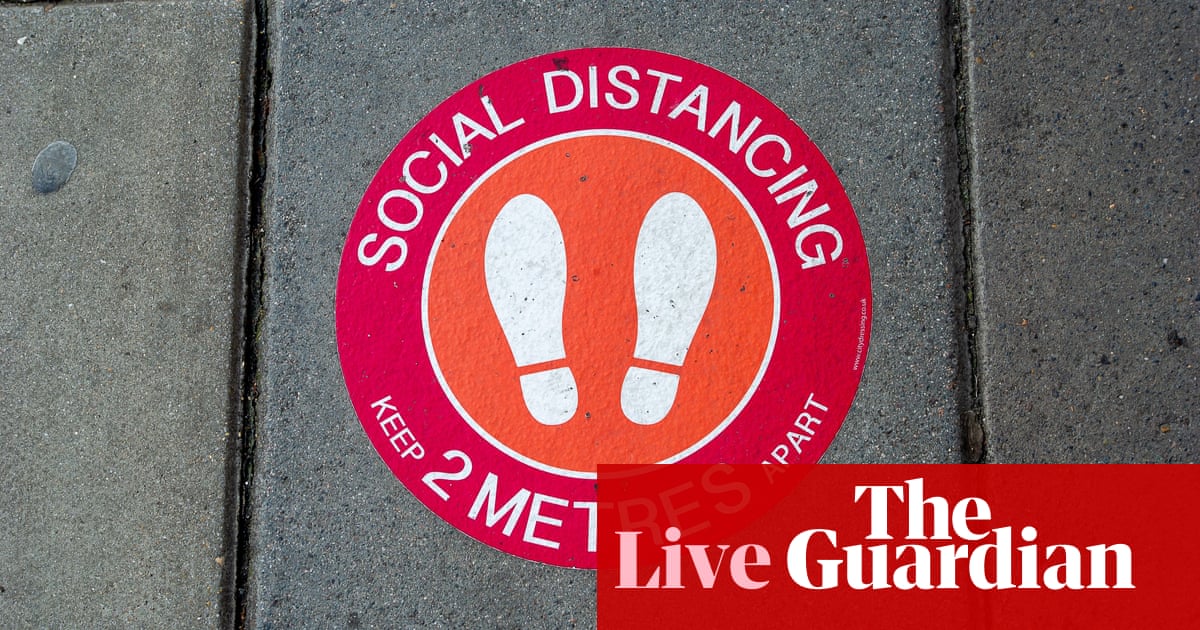 Good morning. George Eustice, the environmental secretary said this morning that more than 10,000 people working in the food supply industry will benefit from daily testing as an alternative to isolation. This means that staff who are pinged by the NHS Covid app or told to isolate themselves by test and tracking because they have been in contact with someone who has tested positive may be able to stay in the workplace provided that the test is negative. When announcing the scheme last night, the Ministry of Environment, Food and Rural Affairs said:



Daily contact testing [ie, testing for people who are contacts of people testing positive] they will be introduced to critical jobs in the food supply chain so that contacts that would otherwise be self-isolated will be able to perform daily tests instead.

Priority testing sites have already been identified by the industry for urgent deployment this week, including the supermarket's largest distribution centers, with the deployment of hundreds of locations set to begin next week, with up to 500 locations.

This move will allow staff to be tested on a daily basis so that they can continue their vital work in supplying the country with food.
Eustice explained the impact of the plan this morning:



We identified nearly 500 key locations, which includes about 170 supermarket warehouses, and then a few hundred more key producers such as our bread producers, dairy companies, and so on.

All the people working in these key strategic locations, distribution warehouses and those manufacturing plants will be able to use this scheme and probably more than 10,000 people.
Confused, the scheme was announced at the same time as the government presented details of a separate plan to allow critical workers in 16 key sectors to use testing as an alternative to isolation as well. But this is not general policy; it will only apply to selected designated individuals once their employers have been given permission to include them from the relevant government department.
In morning interviews, Eustice advocated a decision to limit the scope of another scheme involving critical workers. Asked why, for example, the government does not allow supermarket store staff to use testing as an alternative to insulation in the way warehouse staff can do, he said the government wants to isolate itself as a policy for most people. He said:



Well, the main reason is that this would be a really important feat, as you are talking about thousands of different stores and many more people, and we still want to maintain a system for testing, tracking and isolation.

We know that the most important thing is to ensure that these main arteries in our food supply chain continue to function, that trucks go out of storage for goods to be stored, and that food producers can continue to produce goods, to bring him to the depots.

When you get to the store level, of course, yes, there will be some problems, there will be a shortage of staff. However, it is easier to manage at this level.
Here is the agenda for the day.
9.30: ONS publishes data on the social impact of coronavirus.
12.00: ONS publishes its weekly study of Covid infection.
Afternoon: The government's scientific emergency advisory group is expected to publish a new series of papers.
Today, the Scottish Government is expected to publish details of its own changes to the isolation rules.
Politics Live has recently intertwined Covid and non-Covid news and is likely to continue to do so today. If you want more coronavirus development, follow our global Covid blog.
I'm trying to follow the comments below the line (BTL), but it's impossible to read them. If you have a direct question, include "Andrew" somewhere in it and I'll be more likely to find it. I try to answer questions and if they are in the general interest, I will post the question and answer above the line (ATL), although I cannot promise to do it for everyone.
If you want to get my attention quickly, it's probably better to use Twitter. I am on @AndrewSparrow.
Or you can email me at [email protected]